News classification
Contact us
Add: 19-702,SongQuan Villa,Taibai Road,Luohu,Shenzhen,China
Tel: +86-755-25512007
Fax: +86-755-25512007-2005
Email: sales@conterway.com
AXIS F44 dual audio input host
AXIS F44 dual audio input host
AXIS F44 dual audio input host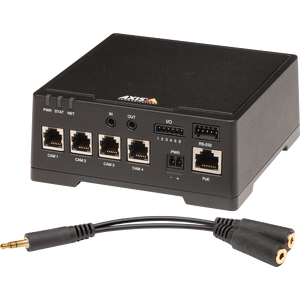 With the help of wide dynamic shadow hunting technology (WDR), multi-screen monitoring with rich functions can be realized
Four sensor units are supported
At the same time, 1080p/HDTV 720p video from four sensor units were streamed
Four segment screen streams
Wide dynamic range - wide dynamic shadowing technique
Zipstream technology
The design is firm and easy to install
Two-way audio, input/output ports, dual SD card slots
Flexible installation
The AXIS F44 host supports up to four AXIS F sensor units capable of monitoring four adjacent areas. The main unit may be installed in a covered area, while the sensor unit may be installed in a narrow indoor location or as far as 8 m, 12 m or 15 m (26, 39 or 49 ft) outdoor location, depending on whether the sensor unit and cable fittings are supported. The rugged and versatile AXIS F44 host is suitable for a variety of demanding applications, including shops, automated teller machines, emergency vehicles, buses and trams.
Covering four regions, it is economical and efficient
AXIS F44 provides a simple and cost-effective multi-screen monitoring solution for simultaneous streaming of images from four different regions through an Ethernet port. The total installation cost of AXIS F44, four sensor components, and other system components may be less than the cost of a system that includes four equivalent standard webcams.
For example, the cost of a network switch may be lower by reducing the number of ports required. The VMS license fee can also be reduced if the video management software (VMS) treats AXIS F44 as requiring one license instead of four. The overall installation and placement of these components may also be easier and more flexible than traditional camera solutions. In addition, the versatile AXIS F44 supports two full-size SD card slots for storing recorded content locally, resulting in a high-performance stand-alone solution.
Two capture modes
Each channel of AXIS F44 supports either 1080p or 720p viewfinder mode as well as multiple separately configured video streams. AXIS F44 can run simultaneously between any two modes.
A viewfinder mode sets the maximum resolution and frame rate. In 1080p mode, the maximum resolution is 1080p (1920 x 1080 pixels) and the maximum frame rate is 12.5/15 frames per second (50/60 Hz). It is capable of providing full picture angles from the 1080p sensor unit.
In 720p frame mode, the maximum resolution is 720p (1280 x 720 pixels) and the maximum frame rate is 25/30 frames per second (50/60 Hz). It provides a screenshot of a 1080p sensor unit and a full picture of a 720p sensor unit such as AXIS F1004.
AXIS F44 supports four-picture streaming in both 1080p and 720p modes, and is able to integrate individual images from four sensor units into one image for simultaneous viewing. Each scene captures a quarter of the display area.
Four segments provided by a bus. Watch video from the bus installation.
Wide dynamic range (WDR) - wide dynamic shadow hunting technology
In 720p frame mode, AXIS F44 offers wide dynamic shadow hunting (WDR) on all four channels. Wide dynamic shadowing (WDR) is activated when connected to an AXIS F sensor unit that supports this feature. Wide motion shadow hunting technology (WDR) can clearly show details in bright and dark scene areas. This technique is ideal for situations where the background is bright and objects appear dark, such as in front of an entrance or an ATM. Or a night solution, where the camera must deal with both low-light environments and bright lights from vehicles, street lamps, signs and shops. AXIS F44, in conjunction with the AXIS F sensor, provides color video at 0.3 lux of low light light.
Zipstream - article - the spotlight
Zipstream
AXIS F44 supports the Zipstream technology of anics, enabling more efficient implementation of the h. 264 video encoder. It is suitable for a variety of monitoring scenarios and can reduce bandwidth and storage requirements by more than 50% on average. In addition, you can ensure that important details are preserved when deleting unnecessary data.
The design is firm and easy to install
AXIS F44 is designed to withstand harsh conditions such as vibrations, shocks, and temperature variations, making it ideal for emergency vehicles (such as police cars, fire trucks, and first aid vehicles), buses, trams, and trucks (such as trucks used to carry money and other valuables).
The host can be easily installed in a cabinet or small case, because all the joints are placed on the side of the host, so that all the cables are facing the same direction without taking up extra space. The bottom of the main unit can be hung directly onto the DIN rail.
versatile
AXIS F44 supports bidirectional audio and two microphones when using the accompanying anics stereo to mono adapter. AXIS F44 also provides four configurable input/output ports for external devices for enhanced alarm management. With RS232 port, external data can be integrated into video. Intelligent video functions include video motion detection, active damage alarm and applications that can be downloaded through the application platform of anensi camera. The host can be powered by Ethernet or dc power.
AXIS F sensor unit
AXIS F1004 Bullet Sensor Unit
AXIS F1004 Bullet Sensor Unit
AXIS F1004 Pinhole Sensor Unit
AXIS F1004 Pinhole Sensor Unit
The AXIS F1004 Sensor Unit
The AXIS F1004 Sensor Unit
The AXIS F1005 - E Sensor Unit
The AXIS F1005 - E Sensor Unit
The AXIS F1015 in hand
The AXIS F1015 Sensor Unit
The AXIS F1025 Sensor Unit
The AXIS F1025 Sensor Unit
The AXIS F1035 - E
The AXIS F1035 - E Sensor Unit
The AXIS F4005 Sensor Unit
AXIS F4005 Dome Sensor Unit
AXIS f4005-e Dome Sensor Unit
AXIS f4005-e Dome Sensor Unit
AXIS F8804 Stereo Sensor Unit