News center
Contact us
Add: 19-702,SongQuan Villa,Taibai Road,Luohu,Shenzhen,China
Tel: +86-755-25512007
Fax: +86-755-25512007-2005
Email: sales@conterway.com
Product show
Asx AXIS q1615-e Mk II network camera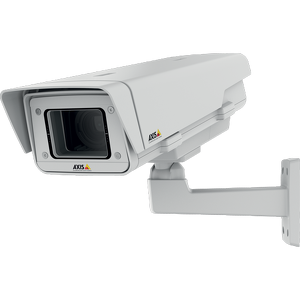 Product Numbers:Q1615-E Mk II
Price:0
Product introduction:Asx AXIS q1615-e Mk II network camera
AXIS q1615-e Mk II network camera
Super high speed outdoor integrated camera with i-cs lens
Tolerance to 40 ° to 60 ° C (C to 40 ° F to 122 ° F) temperature
The world's first i-cs lens
Scenario configuration for specific requirements
HDTV 720p quality can be achieved with 100/120 FPS frame rate, or 1080p quality can be achieved with 50/60 FPS frame rate
Lightfinder technology, wide dynamic shadow hunting (WDR) and Zipstream
AXIS q1615-e Mk II network camera is the world's first outdoor integrated network camera equipped with intelligent i-cs lens. Even in the most extreme light conditions, the camera can provide excellent image quality in moving objects quickly. With three scenario configuration options, you can customize each AXIS q1615-e Mk II in the monitoring solution to meet specific scenario requirements. AXIS q1615-e Mk II is ideal for outdoor monitoring or urban monitoring at airports and train stations.
An influential ultra-high speed camera
AXIS q1615-e Mk II provides HDTV 720p images with a frame rate up to 100/120 FPS and HDTV 1080p images with a frame rate up to 50/60 FPS. It can capture clear images of objects and people moving rapidly. With the aid of solid aluminum shell, AXIS Q1615 - E Mk II can tolerate low to 40 ° C - and up to 60 ° C (- 40 ° F to 122 ° F) temperature. Extremely cold temperature control to ensure safety in 40 ° C - low temperature start, even after the power failure occurred. Also, with IP66, NEMA 4X and IK10 levels of protection, the camera case can be ensured not only against severe weather conditions, but also against impact.
Very simple to install
The new intelligent i-cs lens technology adopted in AXIS q1615-e Mk II is conducive to fast and easy installation and adjustment. Cameras and lenses exchange information. Therefore, after the installer activates the related functions, it is easy and smooth to set the cylindrical distortion correction and electronic image stabilization functions. Zoom can be set remotely - the camera then automatically sets focus. In a word, you can save both time and cost.
The white paper
A camera. Three scenes.
Highway traffic sunset
AXIS q1615-e Mk II provides three alternative scenario configurations:
Wide dynamic hunting configuration for routine monitoring and detail capture
More vivid colors and higher contrast real - time configuration can be achieved
Optimized traffic profile for traffic monitoring
For each configuration, the camera automatically optimize monitoring in the solution of each camera exposure, white balance and aperture, sharpness, contrast and noise, in order to satisfy the demands of specific usage scenarios. For example, you can set the camera height for the traffic overview configuration, the average speed of passing vehicles, and the distance from roads and vehicles. This enables consistent image quality and cost-effective installation.
Excellent image quality. Low bandwidth.
AXIS q1615-e Mk II provides high quality images even recorded in the dark with improved lightfinder technology. WDR - wide dynamic shadow hunting ensures exceptional detail in bright and dark areas of the scene. The latest enhancements to the company's Zipstream technology have significantly reduced bandwidth and storage requirements while retaining high-quality images. The new dynamic frame speed can adapt to any change in the scene.