News center
Contact us
Add: 19-702,SongQuan Villa,Taibai Road,Luohu,Shenzhen,China
Tel: +86-755-25512007
Fax: +86-755-25512007-2005
Email: sales@conterway.com
Product show
Outdoor high definition Network Camera Network Outdoor Camera -ready 4K surveillance with i-cs lens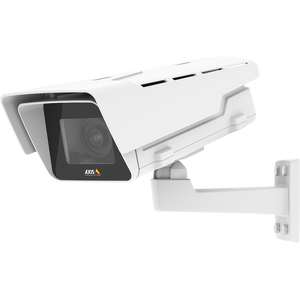 Product Numbers:P1368-E
Price:0
Product introduction:Outdoor high definition Network Camera Network Outdoor Camera -ready 4K surveillance with i-cs lens
Asx AXIS p1368-e 4K outdoor high definition Network Camera Network Camera
Outdoor-ready 4K surveillance with i-cs lens
Great detail in 4K resolution
Temperature range: 55 ° C to 40 ° C to 40 ° F to 131 ° F (-)
Lightfinder and Forensic WDR
I-cs lens for clear images and easy installation
Zipstream
AXIS P1368 - E Network Camera is a rough and ready is suing Camera that delivers superb video in 4 k resolution under just about any the conditions. It's perfect for city surveillance and other applications That require great detail.
Get the whole picture
AXIS p1368-e gives you 4K resolution and the option to choose the lens that best suits your surveillance needs -- like a lens for longer-distance coverage, For example, AXIS p1368-e also provides images that are optimized for forensic purposes regardless of light conditions: It offers outstanding light sensitivity and Axis Lightfinder technology for high-quality-color-images even when they're recorded in near darkness. Intelligent i-cs technology offers extremely extreme Precise iris control for the clearest images possible in changing light. And Forensic WDR provides great detail the when there are both bright And part areas in a scene.
Made for the great outdoors
AXIS P1368 - E is ready for is suing the installation in tough environments. It can withstand temperatures as low as to 40 ° C and as high as 55 ° C (- 40 ° F to 131 ° F). And with IP66, NEMA 4 x and IK10 ratings, You can be sure that the camera housing is resistant to both harsh weather conditions and vandalism. The housing features also an innovative new interior that allows plenty of room for bigger lenses. Switching to Corridor Format is easier than ever as well.
Installation that's as easy as 1, 2, 3
The intelligent I - CS lens technology in AXIS P1368 - E facilitates fast and easy installation and adjustment, and zoom can be set remotely. All in All, you 'll save both time and money.
Sharp images. The Low bandwidth
AXIS p1368-e features AXIS Zipstream technology, which analyses the video stream in real time to identify areas of interest. These areas are compressed a bit less than other areas. Preserving important details in full image quality, while reducing storage and bandwidth by preserving up to 50%. The result is high quality images and significant savings.