News center
Contact us
Add: 19-702,SongQuan Villa,Taibai Road,Luohu,Shenzhen,China
Tel: +86-755-25512007
Fax: +86-755-25512007-2005
Email: sales@conterway.com
Product show
Asx AXIS p1364-e network camera can monitor the outdoor integrated HDTV 720p even under extremely low illumination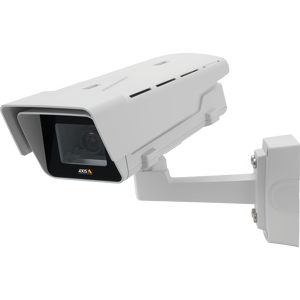 Product Numbers: P1364-E
Price:0
Product introduction:Asx AXIS p1364-e network camera can monitor the outdoor integrated HDTV 720p even under extremely low illumination
Asx AXIS p1364-e network camera
Outdoor integrated HDTV 720p monitoring can be carried out even under extremely low illumination
Light seekers and WDR - wide dynamic shadow hunting techniques
HDTV 720p, 50/60 FPS
Amex Zipstream technology
Two-way audio
Polar temperature control
Is suing - ready portfolio
Excellent photosensitivity
The AXIS p1364-e network camera has excellent photoreceptors and is capable of providing high quality HDTV video in h.264 and Motion JPEG formats at a speed of 50/60 frames per second. In addition to digital PTZ and multiview code streams, the day and night camera is also equipped with precision aperture (p-iris) lenses that provide the best image resolution. It also supports two-way audio, audio detection, video motion detection, active anti-damage alarm, and microSD/microSDHC card slots for selecting local storage. The camera works outdoors, for example in airports, Banks, shops, urban surveillance and any area that requires extensive coverage or high levels of image detail.
Lightfinder
WDR - wide dynamic shadow hunting technology
Using WDR - wide dynamic shadow hunting technology, video is very suitable for forensic identification and can provide very clear images even in scenes with complex lighting conditions. In addition, AXIS p1364-e also enables seamless transition between WDR and lightfinder modes.
The built-in az Zipstream technology in AXIS P1364 can reduce bandwidth and storage requirements by at least 50% on average while ensuring low cost and complexity of the integration process. Zipstream ensures that video streams highlight important details of an image, removing unnecessary data.
Amex Zipstream technology
Smooth installation and polar temperature control
The ip66/67, NEMA 4X and IK10 light cameras are equipped with wall hangers and light shields for dust, rain, snow and sun protection. The polar temperature control to ensure that the in - 40 ° C to 50 ° C (to 40 ° F to 122 ° F) within the scope of the start and work. In addition, the installation is simplified by remote afterfocus, pixel counters, and Ethernet power.