News center
Contact us
Add: 19-702,SongQuan Villa,Taibai Road,Luohu,Shenzhen,China
Tel: +86-755-25512007
Fax: +86-755-25512007-2005
Email: sales@conterway.com
Product show
The first class fixed camera with 1080p HDTV quality for video monitoring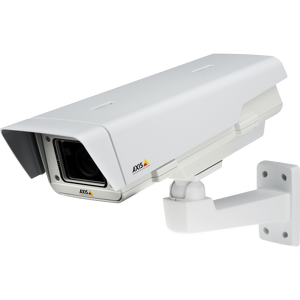 Product Numbers:P1357-E
Price:0
Product introduction:The first class fixed camera with 1080p HDTV quality for video monitoring
Suncom AXIS p1357-e network camera
Outdoor special, with 1080p HDTV quality first-class fixed camera, can be used for video monitoring
Unparalleled video quality with HDTV and 5 million pixels
Precision aperture (p-iris) control
Multichannel h. 264 video stream
Digital translation amplification and multiview video streaming
Dedicated outdoor
Outdoor special, video monitoring equipped with 5 megapixel fixed camera, excellent performance
AXIS p1357-e network camera is a 5-megapixel top-class outdoor dedicated network camera with HDTV 1080p performance and accurate aperture control to ensure the best image resolution and h. 264 compression. It is suitable for outdoor surveillance and urban surveillance in airports, Banks and stores, as well as any applications that require detailed images of vast areas or extremely high images.
Advanced aperture control function
Anxun outdoor monitoring solutions
The camera's innovative precision aperture control (p-iris) function enables the camera to automatically and accurately control the aperture position and optimize the depth of field and lens resolution for optimal image resolution. DC-iris lens is also supported to ensure backward compatibility. With its day-and-night conversion function, high image quality can be ensured even under low brightness conditions.
Special for outdoor monitoring
Protection grade for IP66 AXIS P1357 - E (the attached wall mounting bracket, visor and Ethernet cable) can be dustproof, prevent the rain and snow and the sun, and goes on to 40 ° C to 50 ° C (to 40 ° F to 122 ° F) under the temperature of the work.
Synchronize h.264 and m-jpeg
In order to help reduce bandwidth and storage requirements to the greatest extent, the camera provides digital pan/tilt/zoom and multi-view video stream function, which can make multiple clipping view area and streaming video. The camera supports multichannel independently configurable video streams in h.264 and m-jpeg formats.
Easy to install
A wall is supplied with the camera package
Support Ethernet power supply *, easy installation. The camera also has a remote rear focus function and can be fine-tuned on a computer.
Sharjah International Airport
Complete video surveillance solutions secure all areas of Sharjah International Airport, parking and the administration building