News center
Contact us
Add: 19-702,SongQuan Villa,Taibai Road,Luohu,Shenzhen,China
Tel: +86-755-25512007
Fax: +86-755-25512007-2005
Email: sales@conterway.com
Product show
Ansys AXIS P1254 network camera economical and efficient mini - bullet camera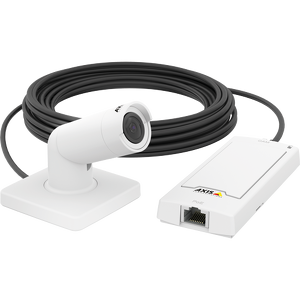 Product Numbers:201864173931
Price:0
Product introduction:Ansys AXIS P1254 network camera economical and efficient mini - bullet camera
Asx AXIS P1254 network camera
Economical and efficient mini bullet camera
Easy and hidden installation
The sensor unit can rotate and tilt to the desired shooting direction
HDTV 720 p and 102 ° of horizontal view
Amex Zipstream technology
Built-in microSD card slot
The AXIS F1004 Bullet Sensor Unit mounted on the AXIS ceilingp1254-1612 F1004 Bullet Sensor Unit mounted on the wall
Easy and hidden installation
The AXIS P1254 network camera provides an economical and efficient mini-bullet camera for hidden monitoring in stores, kiosks, hotels and offices. The sensor unit of this indoor HDTV 720p camera can be conveniently mounted on walls or ceilings and can be rotated or tilted to the desired direction.
Shoe store interior
The AXIS P1254 parts connected
Modular concept
AXIS P1254 consists of the following components: an AXIS F1004 Bullet sensor unit (consisting of lens and image sensors) and an AXIS P12 Mk II host (camera body). The sensor unit is attached with a removable 8-meter (26-foot) cable for connecting to the mainframe. With the help of this cable, the host can be arranged in an area with sufficient space.
Bullet sensor unit
The bullet-shaped sensor unit is small and fluid, thanks to a smaller base plate than the palm. The sensor unit can provide the level of 102 ° view, can provide color under the condition of 0.4 lux light video.
AXIS P1254 Bullet sensor unit in hand
Compact mainframe
The mainframe is 1.7 x 4.6 x 11 cm (5/8 x 1 13/16 x 4 5/16 inches) and can be easily installed in small areas. The camera provides HDTV 720p video and can be powered by Ethernet (PoE). The camera has a built-in microSD card slot for local storage of recorded content.
Reducing the bit rate with Axis Zipstream
Save money with amex Zipstream
AXIS P1254 supports amex Zipstream technology, enabling more efficient implementation of h. 264 video encoder. It is suitable for a variety of monitoring scenarios and can reduce bandwidth and storage requirements by more than 50% on average. Coding techniques ensure that important details are retained when excessive compression of unnecessary data.
Video analysis
AXIS P1254 supports amex video mobile detection 3, active tamper alarm and amex camera application platforms to install additional video analysis.