News center
Contact us
Add: 19-702,SongQuan Villa,Taibai Road,Luohu,Shenzhen,China
Tel: +86-755-25512007
Fax: +86-755-25512007-2005
Email: sales@conterway.com
Product show
Anxun AXIS p1224-e wide-angle Network Camera Network Camera Miniature wide-angle HDTV Camera for discreet outdoor surveillance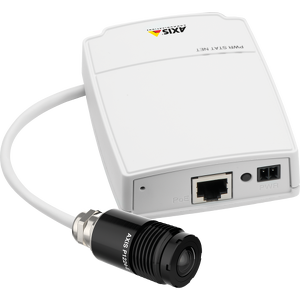 Product Numbers:P1224-E
Price:0
Product introduction:Anxun AXIS p1224-e wide-angle Network Camera Network Camera Miniature wide-angle HDTV Camera for discreet outdoor surveillance
Anxun AXIS p1224-e wide Angle Network Camera Network Camera
Miniature wide-angle HDTV camera for discreet outdoor surveillance
Wide Angle miniature camera
IP66 level sensor device
720 p HDTV
Simple and flexible installation
Ethernet power supply
The AXIS P1224 - E
Wide Angle miniature camera
AXIS P1224 - including a small HDTV 720 p E camera, with 145 ° wide level vision - ideal for unobtrusive panoramic monitor.
The IP66 protection grade video camera can be used for indoor and outdoor, can flush installed on wall, ceiling, the elevator, also can install where space is limited, such as ATM (automatic teller machines). It is ideal for Banks, shops, buildings, hotels and offices.
Simple and flexible installation
AXIS p1224-e consists of two parts: a sensor device (consisting of lens and image sensors) equipped with an 8-meter (26-foot) cable.
And the host (with network, power and input/output connectors and memory card slots). The two parts are connected by a cable, allowing the sensor device to be installed in a small space and the host to be installed elsewhere.
Support for flush mounting is attached
AXIS p1224-e is attached with mounting bracket, which can be installed on the back of the device through adhesive or screw connection, thus achieving convenient flat installation. The camera can be powered by Ethernet or by an external power source.
720 p HDTV
AXIS p1224-e network camera provides full frame rate HDTV720p (1280x720 pixels) video in h.264 and Motion JPEG formats.
Other features and features supported include video motion detection, active anti-damage alarm, and input/output ports for connecting external devices.
AXIS p1224-e network camera
The video introduces the placement and size of the AXIS P12 network camera with its unique design. You can see how well these cameras fit into environments where space is limited or where you need to install them under cover. Part of the film was taken at "tutankhamun - his tomb and wealth" exhibition organized by Semmel Concerts GmbH.
Video and audio surveillance may be limited by law, which varies from country to country. If the product is used for monitoring purposes, it needs to be checked first to see if it meets the legal requirements in your area.