News center
Contact us
Add: 19-702,SongQuan Villa,Taibai Road,Luohu,Shenzhen,China
Tel: +86-755-25512007
Fax: +86-755-25512007-2005
Email: sales@conterway.com
Product show
Ansys AXIS FA54 has high performance multi-view monitoring and WDR wide dynamic hunting technology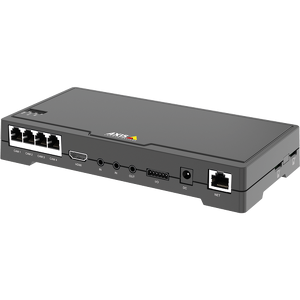 Product Numbers:FA54
Price:0
Product introduction:Ansys AXIS FA54 has high performance multi-view monitoring and WDR wide dynamic hunting technology
Ansys AXIS FA54 host
High performance multi - view monitoring and WDR wide dynamic hunting technology
Four sensor units provide HDTV 1080ps full frame speed video stream
WDR wide dynamic hunting technique
Four-view video stream, amex Zipstream technology and corridor mode
HDMI output, two-way audio, four configurable input/output ports
Two microSD card slots
AXIS FA54 Main UnitAXIS FA54 Main Unit
AXIS FA54 Main UnitAXIS FA54 Main Unit
The AXIS FA Series
A camera system can cover four scenes
High cost performance multi-view monitoring
The AXIS FA54 host can be connected to four ultra-hidden AXIS FA sensor units to monitor four indoor areas in similar locations. The mainframe can be the basis for a complete video monitoring system and is ideal for small shops, Banks or offices. Or it can be used as a complement to a larger system that requires super-covert monitoring with sensor units.
feature-rich
The AXIS FA54 Main Unit
AXIS FA54 has a powerful processor that enables full-frame HDTV 1080p synchronous video streaming across all four sensor units.
It also supports the following functions:
Synchronize four views of the video stream and view four scenarios, each representing a quarter of the screen
WDR (wide dynamic range) wide dynamic hunting technique can obtain better image quality under complex lighting conditions
Zipstream technology reduces bandwidth and storage requirements
Analysis is used to store optimization purposes, such as built-in analysis (such as video motion detecting, tamper-proof alarm and audio detection) or on the basis of the AXIS camera application platform of optional analysis (such as AXIS number counter and AXIS group identifier)
The corridor mode best covers vertical orientation areas such as channels and corridors
HDMI supports connectivity to the monitoring or public view monitor (PVM) and supports playlists that enable monitoring video and still display images (information/ads) on the screen
Two-way audio and speaker output ports with microphone dual input
Four configurable input/output ports are connected to external devices such as locks and alarm event lights
Two microSD card slots for local storage
Video management software: AXIS Companion, a free download that includes a mobile app for remote viewing and management, AXIS Camera Station, and third-party apps
The overall cost of AXIS FA series system is low in combination with the favorable price of host and sensor unit.
The AXIS FA Series
Concealed and flexible
Just like all the modular camera system, the AXIS FA series based on the concept of segment of the network camera, in this concept, the cameras were divided into sensor unit (including the lens and image sensor) and host (the camera body). The unit is connected by a cable that provides power to the sensor unit.
For the AXIS FA series, the host and sensor units are sold separately, so you can select the sensor units that are most appropriate for your application. Note that the host and sensor units in the AXIS FA series cannot be used in conjunction with the host and sensor units in the AXIS F series.
Excellent video quality and WDR wide dynamic shadow hunting technology
The AXIS FA54 host always supports amex WDR wide dynamic shadow hunting technology. AXIS FA54 preferentially deals with darker areas in high-contrast lighting scenarios, such as backlighting scenarios where people stand in front of a very bright background. In such a scenario, the portraits captured by traditional cameras that do not support wide dynamic range are darker. AXIS FA54, which supports WDR wide dynamic shadow hunting technology, can make colors and details more visible in darker areas. WDR technology in the AXIS FA product is also optimized for movement, so there is no moving artifacts when moving objects rapidly through. In low light Settings, the AXIS FA series system provides excellent color video with low noise.
WDR off WDR on fa54 fa1125
There is no WDR (left) comparison with WDR wide dynamic shadow hunting technology (right) : using AXIS FA series WDR wide dynamic shadow hunting technology, colors and details in darker areas can be more clearly seen.
Keep the total cost down
Systems equipped with the AXIS FA54 host and four HDTV 1080p sensor units typically cost less than four standard HDTV 1080p cameras with similar capabilities. If four sensor units use only one Ethernet cable, you can reduce your network port requirements and save the network switch costs. In addition, if you use an IP address, you can only need a single video management software (VMS) license to view video on four sensor units.
AXIS FA series systems also save bandwidth and storage requirements. Amex Zipstream technology, for example, can effectively encode h.264 video streams, reducing storage and bandwidth requirements by up to 50 percent or more while retaining important details. Event-triggered recording using analysis can also help reduce bandwidth and storage usage.
Compatible AXIS FA Sensor Units
AXIS FA1105 sensor unit
AXIS FA1105 sensor unit
1080p ultra - hidden indoor monitoring.
Learn more
AXIS FA4115 hemispheric sensor unit
AXIS FA4115 hemispheric sensor unit
1080p flexible hidden indoor zoom hemispherical camera.