News center
Contact us
Add: 19-702,SongQuan Villa,Taibai Road,Luohu,Shenzhen,China
Tel: +86-755-25512007
Fax: +86-755-25512007-2005
Email: sales@conterway.com
Product show
Asx AXIS f10355-e sensor unit fish-eye lens, providing hidden wide range of HDTV indoor or outdoor monitoring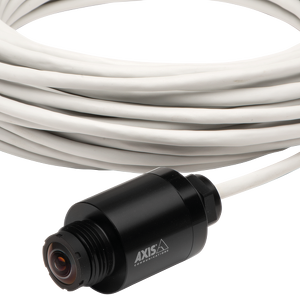 Product Numbers: F1035-E
Price:0
Product introduction:Asx AXIS f10355-e sensor unit fish-eye lens, providing hidden wide range of HDTV indoor or outdoor monitoring
Asx AXIS f1035-e sensor unit
Fish-eye lens, providing hidden wide range of HDTV indoor or outdoor monitoring
Flexible and solid design for indoor and outdoor and mobile monitoring
Fixed lens with a resolution of 1080p
194 ° ultra wide horizontal view
Hidden extensive surveillance
The AXIS f1035-e sensor unit, together with the AXIS F main unit, covers an ultra-wide range with fish-eye view. It is very suitable for indoor and outdoor monitoring and mobile monitoring places to provide highly concealed monitoring; For example, it is used around entrances, long corridors, atms and emergency vehicles, buses and trams.
Small sensor units can be installed in small Spaces, embedded in walls or ceilings, or integrated into warning lights on top of emergency vehicles. The robust IP66 AXIS f1035-e is designed to prevent dust, water, snow, vibration, impact, collision and temperature fluctuations.
AXIS F1035 - including image sensor and a 194 ° E level of super wide vision and 1080 p resolution fisheye lens.
It comes preloaded with a 3-meter (10-foot) or 12-meter (39-foot) cable to connect the AXIS F main unit. The main parts can be installed in the interior, interior or exterior housing far away from them. AXIS f1035-e is equipped with AXIS F8201 variable Angle mounting bracket, allowing the sensing component to be fixed and tilted at any position.
The above image shows the usage and location of AXIS f1035-e. 1: take the porch as an example. People who are the same height as the camera can still be photographed. 2: panoramic monitoring at the entrance; 3. Panoramic monitoring provided when the equipment is installed on the indoor ceiling; 4: panoramic monitoring on the bus to present the monitoring picture of the event more comprehensively.
Compatible AXIS F Main Units
The AXIS F34 Main Unit
The AXIS F34 Main Unit
The AXIS F41 Main unit
The AXIS F41 Main Unit
AXIS F44 Dual Audio Input
AXIS F44 Dual Audio Input