News center
Contact us
Add: 19-702,SongQuan Villa,Taibai Road,Luohu,Shenzhen,China
Tel: +86-755-25512007
Fax: +86-755-25512007-2005
Email: sales@conterway.com
Product show
Ann - and AXIS Q3709 - PVE more than three x4k hemisphere network camera sensors, millions of pixels 180 ° overview. A camera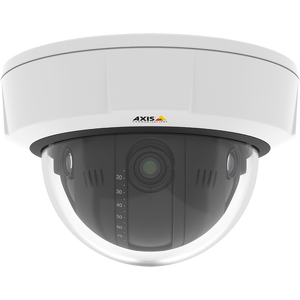 Product Numbers:Q3709-PVE
Price:0
Product introduction:Ann - and AXIS Q3709 - PVE more than three x4k hemisphere network camera sensors, millions of pixels 180 ° overview. A camera
Asx AXIS Q3709-PVE 3x4K hemispheric network camera
Multi-sensor, millions of pixels 180 ° overview. A camera
180 ° panoramic overview
3 x 4K resolution fluent video, up to 30 FPS
The lens passes through the factory focus
Efficient single camera installation
Suitable for outdoor installation
Multi-sensor, 180 ° panoramic overview
AXIS Q3709 - PVE has three sensors, 180 ° perfect panoramic view can provide a large area, can provide the boost required for monitoring application scenarios such as city scene.
The AXIS Q3709 - PVE with shields
Efficient single camera installation
The installation is simple, convenient and economical. Lens through the factory focus, so no manual focus. The camera has a stylish and hidden design, easy to repaint and disassemble the weather shield, providing rain, snow and light protection, and is well integrated into the environment.
With its panoramic view capability, AXIS q3709-pve is a solution that fully covers large areas, requires high level of detail, and USES efficient single-camera installation.
Unparalleled performance
With 3 x 4 k for the cameras to Ultra HD high-definition resolution under the frame rate of 30 frames per second, or to a 3 x 11 million pixel resolution under the frame rate of 20 frames per second, provide whatever the ultimate streaming processing performance and smooth high detail capture action.
Suitable for outdoor installation
The camera is suitable for outdoor installation, dustproof and resistant to high pressure water injection in any direction (IP66 class). It also provides sand and dust protection, salt fog protection, rain protection, hose water impact and protection against external snow and ice damage (NEMA 4X).
In addition, AXIS q3709-pve provides IK10 level protection against impact and damage.
The Port of Barranquilla
The Colombian port of Barranquilla USES cameras for improved cargo tracking, reducing The risk of contamination and other logistics challenges.