News center
Contact us
Add: 19-702,SongQuan Villa,Taibai Road,Luohu,Shenzhen,China
Tel: +86-755-25512007
Fax: +86-755-25512007-2005
Email: sales@conterway.com
Product show
The 5-megapixel PTZ hemispheric network camera has excellent image quality, easy installation and remote adjustment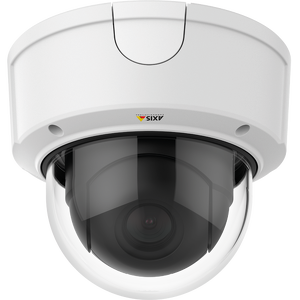 Product Numbers:Q3617-VE
Price:0
Product introduction:The 5-megapixel PTZ hemispheric network camera has excellent image quality, easy installation and remote adjustment
Asx AXIS q3617-ve network camera
Excellent image quality, easy installation and remote adjustment
Excellent video quality with 1/1.8 "sensor
Light seekers and WDR - wide dynamic shadow hunting techniques
Maximum 6 MP (20 FPS, no WDR) or 4 MP (30 FPS, WDR)
The unique remote PTRZ function enables efficient installation and readjustment
Amex Zipstream technology - saves bandwidth without sacrificing quality
AXIS q3617-ve network camera is designed for mission-critical monitoring scenarios. The camera provides excellent image quality, uptime and protection and is the perfect choice for critical infrastructure, transportation and urban monitoring.
AXIS q3615-ve with weather shield frontAXIS q3615-ve left Angle
Excellent image quality, consistent
With the largest sensor ever in a fixed hemisphere camera, AXIS q3617-ve can provide the best images possible in any case. WDR - wide dynamic shadow hunting can reduce noise and improve image signal when bright and dark areas exist in the scene, so as to achieve judicial identification optimization. Anxun's lightfinder technology can produce clear color images in the presence of poor light. The electronic image stabilization function can keep the image stable. AXIS q3617-ve also gives you up to 6 MP (20 FPS, WDR) or 4 MP (30fps, no WDR). Amex Zipstream technology - saves up to 50 percent on bandwidth and storage without sacrificing quality.
AXIS q3615-ve with weather shield
When efficiency matters
AXIS q3617-ve offers a unique solution: our new remote PTRZ horizontal/vertical rotation/zoom capability. It can achieve extraordinary speed and efficiency in installation, thereby reducing costs and reducing time. If the camera Angle needs to be adjusted as the case may be, it can be changed from a distance by remote PTRZ without pausing the recording.
Reliable camera
AXIS q3617-ve has a rugged mechanical design for outdoor installation in harsh environments. It has IK10 level anti-damage, vibration and impact detection. Therefore, no matter what the situation is, you can rely on a key monitoring system that works all day long.