News center
Contact us
Add: 19-702,SongQuan Villa,Taibai Road,Luohu,Shenzhen,China
Tel: +86-755-25512007
Fax: +86-755-25512007-2005
Email: sales@conterway.com
Product show
Amex AXIS m3044-wv wireless hemispheric network camera realizes the quality of HDTV 720p video through wireless connection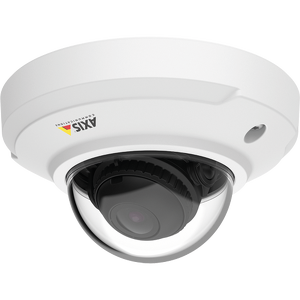 Product Numbers:M3044-WV
Price:0
Product introduction:Amex AXIS m3044-wv wireless hemispheric network camera realizes the quality of HDTV 720p video through wireless connection
Asx AXIS m3044-wv wireless hemispheric network camera

Realize HDTV 720p video quality with wireless connection

HDTV 720p video quality

Connect over a wireless LAN or Ethernet

Wide dynamic range (WDR) can present bright and dark areas in extreme detail

Amex Zipstream technology - saves bandwidth without sacrificing quality

Super compact and hidden design

Quick, easy and economical installation

Support intelligent analysis


The AXIS M3044 -v

The AXIS M3045 - WV in hand


If you want an affordable fixed mini dome surveillance camera that offers excellent video quality and wireless connection, this is it. AXIS m3044-wv is perfect for stores, hotels, schools, Banks and offices.



Affordable price, the quality of anxun shi

AXIS m3044-wv provides you with clear HDTV 720p video quality. The camera provides with the level of 82 ° vision. Moreover, it comes with a wide dynamic range (WDR) technology that can be presented in detail, even at different levels of light.


Put it where you want it

AXIS m3044-wv has a wireless network interface that supports a/b/g/n standards. It provides high performance. Wide-range transmission and you can place it exactly where you need it for a flexible installation. As an alternative AXIS m3044-wv can also be connected over Ethernet.





Sharp images. The Low bandwidth.

Axis' Zipstream technology reduces storage and bandwidth by 50%. While capturing important details in full image quality, Video streams can be encoded in h. 264 and Motion JPEG. And for monitoring long, narrow areas, Axis' Corridor Format provides a portrait-shaped video stream. It maximizes the image quality, while...




Fits in your hand -- Fits in anywhere

Small and compact, AXIS m3044-wv can be mounted on walls or ceiling as you prefer. And you can easily repaint it to blend in with any environment.



Installation that's as easy as 1, 2, 3

To keep costs low, AXIS m3044-wv is designed for fast and easy installation. It can be easily leveled and directed in any direction. The AXIS M3044 - WV is braking vandal and dust resistant for optimal performance and minimal downtime.