News center
Contact us
Add: 19-702,SongQuan Villa,Taibai Road,Luohu,Shenzhen,China
Tel: +86-755-25512007
Fax: +86-755-25512007-2005
Email: sales@conterway.com
Product show
Asx AXIS q1775-e network camera is a flexible outdoor all-weather camera with excellent video effect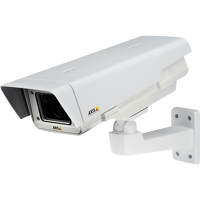 Product Numbers:Q1775-E
Price:0
Product introduction:Asx AXIS q1775-e network camera is a flexible outdoor all-weather camera with excellent video effect
Asx AXIS q1775-e network camera
Flexible outdoor all-weather camera with excellent video effect.
1080p hd TV resolution
10 x zoom and auto focus
WDR - wide dynamic capture
Excellent image quality in all light conditions
Polar temperature control
Ann - and AXIS Q1775 - E stationary network camera is a suitable for outdoor use all-weather hd resolution camera, can cover a great distance, provides an overview of the wide field and detailed graphics used for identification purposes.
Axis-axis q1775-e and its compatible components are designed to monitor the installation application scenarios of building entrances, exits and perimeter, as well as parking monitoring or general urban monitoring applications installed on poles. The camera provides high-quality real-time video from highways, intersections, tunnels, Bridges and major commuter routes to prevent accidents and support immediate response. In key infrastructure applications, AXIS q1775-e helps detect, locate, and identify intruders from gates, surrounding environments, and all channels to key rooms.
The AXIS Q1775 - E Front
Excellent image quality and excellent audio effects
With 10 optical zoom, 12 digital zoom and automatic focus, AXIS q1775-e provides the desired field of vision with perfect focal length moments. The wide dynamic range of the camera is equipped with wide dynamic capture function, which can use multiple images with different exposure times. Advanced video graphics processing results have excellent clarity and sharpness.
Combined with an external microphone and speaker, the camera provides excellent 48 kHz CD quality audio effects.
Ansys AXIS q1775-e supports multiple independently configured h.264 and dynamic JPEG video streams at full frame speed. With function and sequence output function, day and night in all lighting conditions it can offer excellent image quality (even fast moving objects), and there is no motion blur.
WDR - wide dynamic capture
Complies with SMPTE HDTV standard
Asx AXIS q1775-e meets the SMPTE HDTV standard for resolution, color display, and frame speed. The camera provides HDTV with 1080P resolution, 16:9 aspect ratio and 60/50 FPS full frame speed.
Optional storage and flexible installation
The camera has a built-in SDHC/SDXCTM* memory card slot, which allows it to store video for days without any external device. Ethernet power (IEEE 802.3af) provides power to the camera over the network, so no power cables are required, reducing installation costs. AXIS q1775-e includes removable hood and wall mounting bracket.
Ann dispatch and monitoring with 64 GB microSDXC ™ card Ethernet power supply
Intelligent video function and analysis enhancement function
ONVIF logo
Asx AXIS q1775-e includes intelligent video functions such as video mobile detection and active tamper alarm as well as analytical enhancement. It also includes a Gatekeeper feature that magnifies images in the event of activity in a monitoring place and then shrinks them after a predetermined time interval. The camera also support the installation of intelligent video applications, such as the number of statistics, and the camera application platform and Ann - video hosting system, as well as the software, including ONVIF integrated development programming interface.
The asx camera application platform hosts video ONVIF
Extremely cold weather conditions
Ann - and AXIS Q1775 - E suitable for outdoor use, can deal with to 40 ° C to 50 ° C (to 40 ° F to 122 ° F) of the bad weather conditions. Anns ' Extremely cold temperature control function for protection level IP66, IK10 and NEMA 4 x AXIS Q1775 - even in E - 40 ° C (- 22 ° F) can be smoothly carried out under the low temperature.
* microSDXC and SD logo are trademarks of sd-3c.