News center
Contact us
Add: 19-702,SongQuan Villa,Taibai Road,Luohu,Shenzhen,China
Tel: +86-755-25512007
Fax: +86-755-25512007-2005
Email: sales@conterway.com
Product show
Asx AXIS q6124-e PTZ Network Camera 720P Network ball machine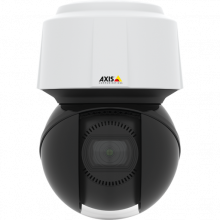 Product Numbers:Q6124-E
Price:0
Product introduction:Asx AXIS q6124-e PTZ Network Camera 720P Network ball machine
Asx AXIS q6124-e PTZ Network Camera 720P Network ball machine
HDTV 720p with Sharpdome technology and Lightfinder
HDTV 720p and 30 times optical zoom
Sharp display technology and quick drying technology
Lightfinder and wide dynamic 130dB
Zipstream technology saves bandwidth and storage
The level of 700 ° rotation performance per second
Anti - dust, anti - high pressure nozzle and anti - impact
AXIS q6124-e network camera is a high performance PTZ camera. This is a compact outdoor camera with HDTV 720p and 30 times optical zoom. Fast and accurate horizontal rotating-vertical rotating-zoom operation provides wide coverage and excellent detail. AXIS q6124-e is ideal for airports, train stations, arenas, shopping malls, warehouses and production facilities.
Many advanced functions
AXIS q6124-e USES the lightfinder technology to provide excellent performance in low light environments. Wide dynamic range provides excellent capture details even in scenarios with extremely bright and dark areas. Electronic image stabilization means that the camera can provide a smooth video even when exposed to wind or vibrated.
Clear image. Low bandwidth.
AXIS q6124-e also USES amex Zipstream technology to reduce bandwidth and storage requirements by at least 50% or more on average while retaining important details of complete image quality. Zipstream also automatically ADAPTS to PTZ camera movement. The result is high quality images and significant bandwidth savings.
Dry lens, clear vision
Using the AXIS Q6124 - E, you 20 ° on the horizon and horizon can get the same sharp and clear picture quality, thanks to the sharp display technology. This has obvious advantages even in slightly uneven terrain. In addition, the quick drying function ensures clarity on rainy days and supports efficient cleaning.
Reliable camera
With built-in dust, rain, snow, sun protection (IP66 and NEMA 4 x) as well as excellent shock resistance (IK 08 level), the AXIS Q6124 - E even in the worst condition also can provide reliable performance. In addition, vibration detection can send an alarm to relevant personnel when damaged.
Intelligent protection analysis
AXIS q6124-e comes with an active door guard that automatically moves to a preset position and tracks detected objects when movement is detected in a predefined area. Ansys and our partners also offer a number of other advanced analytics applications that can be integrated into AXIS q6124-e.