News center
Contact us
Add: 19-702,SongQuan Villa,Taibai Road,Luohu,Shenzhen,China
Tel: +86-755-25512007
Fax: +86-755-25512007-2005
Email: sales@conterway.com
Product show
SONY's new PCS-XG100 hd video conference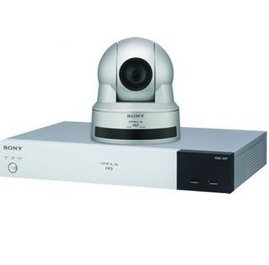 Product Numbers:PCS-XG100
Price:0
Product introduction:SONY's new PCS-XG100 hd video conference
SONY's new PCS-XG100 hd video conference
A complete set of terminal including: a high definition video codec, a hd camera, a radio frequency remote control and a omnidirectional microphone
The first part: the basic functions
1, in line with international ITU - T
H. 320, h. 323 communication protocol.
2, use a PC structure design, the use of embedded operating system, start-up speed is less than 2 minutes.
3, camera and hd video codec using split type hardware architecture.
4, maximum support 4 MBPS of conference access network bandwidth
5, bidders for products must have 3 c certificate, telecommunications examined and radio transmission of the remote control approval certificate
6, the bidder should be issued by the manufacturer of project authorization letter and bid product quality guarantee
The second part: the video function
1, the video codec support protocol h. 261, h. 263, h. 263 +, h. 263 + +, h. 264, h. 264
High Profile technology and mpeg-4 SP @ L3.
2, with 720 p high-definition image formats (1280 * 720)
3, has the QCIF (176 * 144), CIF (352 * 288), 4 CIF (704 * 576), W4CIF (1024 x 576), WCIF (512 x 288) and W432P (768 x 432), and other standard image format
4, high-definition image frame rate support 720 p
60 FPS
5, 3 hd video input interface; Support the DVI -i hd interface
6, with 2 hd video output interface; Support HDMI hd interface and DVI -i hd interface
7, support 3 single simulation function, can be in a single TV show the remote video image at the same time, local video images and shuangliu images. And the position of picture in picture is adjustable.
The third part: audio functions
1, audio codec protocol support g. 711, g. 722, g. 728 and mpeg-4
AAC.
2, can simultaneously access six omnidirectional microphone, can achieve stereo input, support 360 degrees pickup; Sound acquisition technology such as support echo cancellation and noise suppression.
3, can simultaneously access 2 set of 4 RCA audio signals
4, with 1 HDMI audio output interface, and two groups of four road RCA audio output interface
The fourth part the shuangliu function
1, have shuangliu sending and receiving function, accord with h. 239 pairs of video streaming protocol
2, h. 239 auxiliary flow resolution reached an SXGA (1280 * 1024)
30 FPS.
3, to assign and shuangliu auxiliary video meeting the main picture takes up bandwidth.
The fifth part terminal meeting management
1, based on Web mode in Chinese management configuration interface, all configuration control functions can be achieved by remote control.
2, can real-time monitor the meeting of the system state, such as transmission rate, audio and video protocol, the network state information.
3, with functions of hd meeting recording USB access USB flash drive, USB flash drive capacity for 32 gb or above, at least 8 hours can be continuously recorded 720 p hd meeting. , through the terminal
- supplier, please detailed terminal record meeting is implemented.
4, through external tablets equipment, can be in point to point and multipoint conference, the implementation of the video image or on the far side of the shuangliu image annotation, and can be marked by the content of the images in the video image or shuangliu, then sent to the far end the meeting.
- supplier, please detail what equipment need to be configured (external equipment brands and models listed required) to achieve the above functions, please describe in detail the principle.
The sixth part of the network management
1, support QoS technology, real time monitoring network state, have the network fault tolerance.
2, support ISDN, IP network access to a variety of ways.
With standard high-definition cameras, technical indicators
1, using high-definition digital image acquisition chip, using 1/2.8 of an inch Exmor
CMOS imaging equipment
2 terminals, video cameras and structure design of separate remote control using radio frequency technology instead of infrared remote control technology. remote
Terminal controller distance or camera up to 20 meters, still be able to control both.
- supplier need to provide high-definition terminal of the remote control of the remote control radio transmitting verification certificate
3, with 20 x optical zoom, 12 times digital zoom
4, with automatic gain, backlight compensation and multistage regulation technology, light light of light and shade processing respectively, adaptation environment and the venue.
5, the standard of hd camera requires 1080 p hd image output signal
6, can be stored for at least 100 camera position, a switch camera preset image can choose different switching effect.
7, high-definition cameras with hd video conferencing terminals for the same brand.
8, high-definition cameras have lifting function, can realize image rollovers
9, the level of the hd camera rotation range in - minus 170 degrees is 170 degrees, vertical rotation range in 90
C - minus 20 degrees
Standard technical indicators of omnidirectional microphone
1, the voice of the omnidirectional microphone can achieve 360 degrees to pick up
2, effective pickup radius is more than 3 metres