News center
Contact us
Add: 19-702,SongQuan Villa,Taibai Road,Luohu,Shenzhen,China
Tel: +86-755-25512007
Fax: +86-755-25512007-2005
Email: sales@conterway.com
Product show
Atsunx AXIS q6114-e PTZ ball machine network camera is equipped with high-end HDTV 720p PTZ camera with Sharpdome technology and finder technology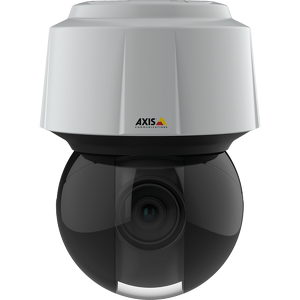 Product Numbers:Q6114-E PTZ
Price:0
Product introduction:Atsunx AXIS q6114-e PTZ ball machine network camera is equipped with high-end HDTV 720p PTZ camera with Sharpdome technology and finder technology
Asx AXIS q6114-e PTZ network camera
High end HDTV 720p PTZ camera with Sharpdome technology and finder technology
HDTV 720p and 30 times optical zoom
Anxun sharp display technology and quick dry technology
Amex Zipstream technology
IP66 and NEMA 4X are dust - resistant, high pressure nozzle and shock - resistant
Shock detection
Wide dynamic range 130dB
High power Ethernet power, maximum 60 W
AXIS Q6115-EAXIS Q61 right Angle
Designed for efficient PTZ monitoring
AXIS Q6114 - E is compact structure of outdoor special high-performance PTZ camera hemisphere type, providing HDTV, 30 x optical zoom and 720 p resolution high speed precision horizontal rotation/vertical rotation function, realized the wide range of detection and details of the display. It is ideal for airport, railway station, arena, shopping mall, warehouse and production plant. AXIS Q6114 - E pick up have to find the light technology, also has excellent performance under low light conditions, and its wide dynamic range can cope with adverse lighting conditions, the camcorder will also support the windy image stabilization, is suitable for the environment to provide more smooth video. It also USES amex Zipstream technology, which reduces bandwidth and storage requirements by at least 50 percent on average while maintaining resolution, frame rate and forensic details. Zipstream automatically ADAPTS to PTZ camera movement.
At Sharpdome, we have a clear picture
Ann - James Sharpdome device technology and its innovation and unique hemisphere structure, can all-around, taken to provide clear images, and can be an unprecedented captured by the camera of 20 ° above the horizontal objects, so that the camera also applies to monitoring of rugged terrain.
Anshun speed function
Sharpdome technology includes Sharpdome's unique Speed Dry feature, which helps provide clear images on rainy days. It also simplifies cleaning of the hemispheric camera, allowing for more efficient cleaning methods, such as high-pressure cleaning. Reliable PTZ operation. AXIS q6114-e has IP66 level protection against dust and high pressure water nozzle intrusion. The camera has reliable performance and good weather resistance, with built-in dust, rain, snow, sunlight protection (IP66 and NEMA 4X) and shock resistance (IK 08). In addition, the camera also has impact detection, which can alarm when damaged.
Q61 Blue hall
Intelligent video
AXIS q6114-e's built-in video analysis includes active gatekeeping, enabling the camera to automatically move to the preset position when motion is detected in the predetermined area and then track the detected target. The camera also supports powerful third-party intelligent video applications.