News center
Contact us
Add: 19-702,SongQuan Villa,Taibai Road,Luohu,Shenzhen,China
Tel: +86-755-25512007
Fax: +86-755-25512007-2005
Email: sales@conterway.com
Product show
Asx AXIS P5514 PTZ network camera economical indoor HDTV PTZ camera, 12 times zoom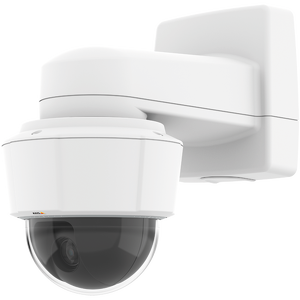 Product Numbers:P5514 PTZ
Price:0
Product introduction:Asx AXIS P5514 PTZ network camera economical indoor HDTV PTZ camera, 12 times zoom
Asx AXIS P5514 PTZ network camera
Economical and efficient indoor HDTV PTZ camera with 12 - fold zoom
HDTV 720p resolution and 12 times optical zoom
With automatic turn 360 ° rotation
Zipstream
IP52 class dust and waterproof
Simple installation including Ethernet power supply (IEEE 802.3af)
With compact design and favorable price, the PTZ AXIS P5514 PTZ camera can rotate horizontally/vertically/zoom around the clock, which is suitable for indoor use. It is suitable for monitoring applications such as stores, Banks, hotels, warehouses and business premises.
AXIS P5514 supports two-way audio, audio detection, external device I/O ports, and dc/ac power when using the optional duplex connector cable. The SD/SDHC slot enables recording content to be stored locally.
P5514P5514AXIS P5514 dropceiling
AXIS P55/Q60 duplex connector cable, 5 m
Multiple connectors for power, audio, and I/O. 5 meters.
AXIS P55/ qmulti 60-connector cable, 5 m
Ann dispatch and monitoring with microSDXC ™ card is 64 GB
Reliable video monitoring front-end storage.
Learn more
Hand squeezing lemon
Clear image. Low bandwidth.
AXIS P5514 also USES amex Zipstream technology to reduce bandwidth and storage requirements by at least 50% on average while maintaining resolution, frame rate, and judicial authentication details. Zipstream automatically ADAPTS to PTZ camera movement.
The Fork lifter
Horizontal/vertical rotation/zoom function
Remote location of the user can use the PTZ camera horizontally rotate 360 ° panoramic monitor, and use the autofocus function for 180 ° 12 times more than the vertical rotation and zoom, so as to obtain high resolution view. The camera also features advanced door guards that automatically move to a predetermined position in a specific area to detect movement.
High video quality
Because of the camera's ability to convert day and night, even under low light conditions, the camera can ensure a high quality image. AXIS P5514 provides h.264 and dynamic JPEG video streams up to 720p at a 25/30 FPS frame rate. H.264 optimizes bandwidth and memory utilization without compromising image quality.
P5514
The installation is simple and reliable
AXIS P5514 supports standard Ethernet power and is easy to install. The camera can be connected to a poe-enabled switch or cross-connected to the switch via a PoE, and can transmit power, video/audio and PTZ control signals with only one network cable.
The camera also has IP51 level protection, dust and water. Therefore, the camera can operate normally even when the automatic sprinkler system is activated.