News center
Contact us
Add: 19-702,SongQuan Villa,Taibai Road,Luohu,Shenzhen,China
Tel: +86-755-25512007
Fax: +86-755-25512007-2005
Email: sales@conterway.com
Product show
Asx AXIS q8742-le infrared high precision outdoor cloud platform positioning dual-head camera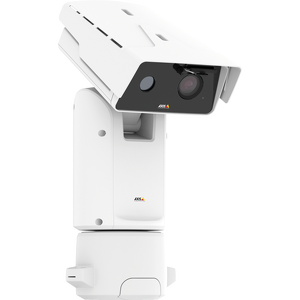 Product Numbers: Q8742-LE
Price:0
Product introduction:Asx AXIS q8742-le infrared high precision outdoor cloud platform positioning dual-head camera
Ann - and AXIS Q8742 - LE Bispectral PTZ Network Camera
VGA thermal and visual surveillance in one
AXIS q8742-le 35MM 8.3 FPS 24V
High precision accurate outdoor cloud platform positioning dual-head camera
Preciseness outdoor haeundae positioning double camera, thermal imaging camera 640 x480 resolution, 8.3 FPS, 35 mm lens, 17 ° Angle. Hd 1080 p HDTV camera, 30 x optical zoom, built-in infrared filter, can provide higher in complex light environment image sharpness. The infrared coverage distance is up to 500 million. Integrated durable silicone wiper for remote maintenance. Support Zipstream, ONVIF, h.264, and local storage. It includes video mobile detection and supports the application platform of asx, which can install the perimeter protection of asx and the third-party intelligent analysis applications. It can be accurately and quickly positioned by high speed cloud platform. Integrated SFP slots are used for long-distance transmission of optical fiber connections. IP66, NEMA 4X level protection, UL certification. It can be installed directly in the column, 24VAC/DC power supply. The product shall strictly comply with export control regulations. Need to consult and comply with appropriate local export control regulations.
One view - two bispectral video streams
Reliable detection, fast verification and identification
Responsive positioning 360 ° endless pan and 135 ° from ground to sky
Easy to install with one IP address
Long - short network connection
Q8741e - 42 eangle - right
AXIS q8742-le Network Camera is a positioning Camera that brings a powerful -- and cost effective -- combination of visual and thermal video streams ina single PTZ Camera to border surveillance and surveillance Other applications with similar requirements.
A winning combination
AXIS Q8742-LE gives you two excellent cameras in one: A camera thermal with outstanding contrast in 640x480 resolution for reliable detection and verification around the clock andin all weather and light conditions Visual camera in HDTV 1080p with integrated 30x optical zoom for identification purposes.
The camera also has a Wide Dynamic Range -- Forensic Capture for clarity and detail in scenes with both dark and light areas. And Focus recall for instant Focus in areas you define.
Swift and smooth 360 ° coverage
AXIS q8741-le lets operators choose between really slow or super-fast pan (from 0.05 to 120 degrees per second) and tilt movement (from 0.05 to 65 degrees per second). So, They get smooth and jerk free panoramic sharks when they need it and can respond quickly to events. The camera can be column-mounted, On poles or walls for a 360 ° panoramic view and a ground - to - sky view from 90 ° to 45 ° +. It can withstand high winds the when It's standing still and winds of up to 37 - meter per second when It 's (83 MPH) In motion. And an SFP slot means it supports long-distance fiber-optic connection.
Single - unit savings
AXIS q8742-le is a highly cost-effective solution. You need just one camera and one IP address to benefit from long distance thermal detection. Visual identification and PTZ capabilities. Which means lower purchase, installation and operational costs. In addition, Axis Zipstream technology reduces storage and bandwidth with up to 50% or more while ensuring that important details are captured in full image quality.
Fast and easy
Its slim design and many available accessories let you install it anywhere you want. It has an SFP slot, so it supports cost-effectiveness, Long-distance fiber-optic connection. And maintenance is made simple by a remote-control cleaning system that features long-life wipers. A 22 meter (72 feet) long, Heavy duty power cable is available as optional accessory. Designed for outdoor use, the cable has 3-wire, 12AWG and a jacket diameter of 10 mm (0.4 in).
Detection ranges
Focal length sharks Angle Detection
Mm Horizontal Human:
1.8 x 0.5m Vehicle:
4 x 1.5 m
M yards m yards
Detection (1.5pixels on target)
35 ° 17, 1079, 1179, 3307, 3617
Recognition (6 pixels on target)
35 ° 17, 270, 295, 827, 904
Identification (12 pixels on target)
35 ° 17, 135, 147, 413, 542
The detection ranges are calculated with Johnson's criteria and vary in different weather conditions.
Surveillance only in the dark, or even all-day-around?
Find out out why thermal cameras are reliable detection and recognition tools.