News center
Contact us
Add: 19-702,SongQuan Villa,Taibai Road,Luohu,Shenzhen,China
Tel: +86-755-25512007
Fax: +86-755-25512007-2005
Email: sales@conterway.com
Product show
Ansys AXIS p3707-pe outdoor panorama 4 sensor network cameras flexible 360-degree multi-sensor cameras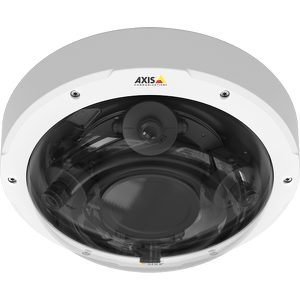 Product Numbers: P3707-PE
Price:0
Product introduction:Ansys AXIS p3707-pe outdoor panorama 4 sensor network cameras flexible 360-degree multi-sensor cameras
Ansys AXIS p3707-pe outdoor panoramic 4 sensor network cameras
Flexible 360-degree multi-sensor camera
An 8 megapixel 360-degree multi-sensor camera with an IP address
Four zoom camera head with flexible positioning
Frame rate is 12.5/15 FPS 1080p video; Frame rate is 25/30 FPS 720p video; quadrature
Amex Zipstream technology
Ethernet power supply
Dedicated outdoor
AXIS p3707-pe Network Camera raw aaxis p3707-pe Network Camera raw aaxis p3707-pe Network Camera
Panorama and close-up
AXIS p3707-pe network camera gets 360-degree panorama or panorama combined with close-up. The 8-megapixel multi-sensor fixed camera has four zoom camera heads and can capture scenes from all directions with a wide or enlarged view.
AXIS P3707 - PE is essentially four camera device, can provide large indoor and outdoor area monitoring economic and efficient solution, such as retail stores, shopping centers, warehouses, hotels, schools, lounge room, office, lounge and a car park. It is also ideal for use in foyer, aisle and road intersections and architectural corners.
Cost savings
With four camera heads in one body, AXIS p3707-pe is extremely cost-effective, with both price and performance comparable to the four standard zoom cameras. Since only one network cable is needed, not four, the installation is much easier. A cable also reduces the number of ports required on the switch. The fact that the camera has an IP address means that for most video management systems, it requires only one software license fee (not four). In addition, the camera is powered by Ethernet, eliminating the need to connect to a nearby power outlet. AXIS p3707-pe also has low power consumption with a maximum power of 5.5w.
Reducing the bit rate with Axis Zipstream
Ann - Zipstream
The camera supports the company's Zipstream technology, which is useful when using an 8-megapixel streaming video. Zipstream can realize more efficient implementation of h. 264 video encoder. It is suitable for a variety of monitoring scenarios and can reduce bandwidth and storage requirements by more than 50% on average. Coding techniques ensure that important details are retained when excessive compression of unnecessary data.
Flexible installation
The installer can optimize the view through each AXIS p3707-pe zoom lens to meet the monitoring requirements: the wide Angle is suitable for panoramic monitoring, and the long focus is suitable for larger images with clearer details. In order to achieve the best positioning, each camera head can be flexible sliding along the circular orbit + / - 90 °. Each camera head can also be tilted 28 ° to 92 °. In order to capture the direction of the vertical scenarios (e.g., long corridors and road), each camera head can rotate 90 ° to support - Ann and format of the corridor.
P3707 - PE Corridor Coverage
Rotatable camera heads: (A) the Line vertically positioned for discussing the Axis' Corridor Format for coverage of vertically oriented scenes to as hallways. (B) Horizontal position for standard 16:9 views.
P3707 - PE 360 Coverage
Under the cover: The four camera heads of AXIS P3707 - PE can together cover a 360 ° area, With each having a 108 ° horizontal field of view at Max. The wide and ° 54 at Max. The telephoto. (a) One RJ45 connector for the network cable. (B) Built - in microSD card slot.