News center
Contact us
Add: 19-702,SongQuan Villa,Taibai Road,Luohu,Shenzhen,China
Tel: +86-755-25512007
Fax: +86-755-25512007-2005
Email: sales@conterway.com
Product show
Asx d201-s XPT Q6055 explosion-proof PTZ network camera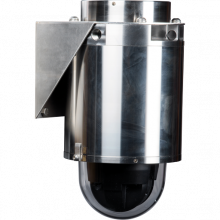 Product Numbers:D201-S XPT Q6055
Price:0
Product introduction:Asx d201-s XPT Q6055 explosion-proof PTZ network camera
Asx d201-s XPT Q6055 explosion-proof PTZ network camera
Real-time monitoring in hazardous areas
Category I, zone 1 and zone 1 regional certification
Use PoE for cost-effective installation
Low weight and configuration files for easy installation
All HDTV 1080p and 32 times optical zoom
The d201-s XPT Q6055 explosion-proof PTZ network camera is an easy to install and integrate hemispheric camera. It provides a broad overview and excellent magnification detail that you expect from asus's top-class PTZ cameras. All contained in a class I, 1 and 1 area certification can be used in explosive used stainless steel shell patented technology, so compared with the traditional explosion-proof PTZ camera, you can effectively control the expenses cost less the danger zone.
Excellent performance for hazardous areas
D201-s XPT Q6055 is a lightning fast PTZ camera with a roving function, which is ideal for monitoring wide areas. In addition, it supports 32 times optical zoom and HDTV 1080p resolution, so it can provide excellent zoom view of people and objects from a distance. Focus wake-up provides instant clarity in low contrast scenarios. And Zipstream technology keeps all the important capture details you need while reducing bandwidth and storage requirements by an average of 50 percent or more. In other words, d201-s XPT Q6055 has all the features you'd expect from an asensor q-line PTZ camera.
Reliability - and real savings
The d201-s XPT Q6055 USES PoE power to realize plug and play installation, so it is lighter than traditional explosion-proof PTZ cameras. And that means significant cost savings because you don't need an electrician and a team of three to install it. In particular, the camera is lightweight and can be easily installed and managed on oil RIGS in challenging windy conditions. The shell is designed to meet the API DROP standard and comes with additional safety wires for installation along the U.S. coast. All the moving parts of d201-s XPT Q6055 are protected within their steel casing, and the power supply (provided by the attached AXIS T8154 60W SFP cross-device) is located in a dedicated junction box on the ground. Therefore, it will reduce the possible failure points and make troubleshooting easier. In AXIS T8154 60 W SFP, the SFP slot in cross-device can realize remote optical fiber connection.
Analysis can protect your bottom line
D201-s XPT Q6055 comes with some built-in anascope analysis applications to help keep staff and equipment safe. For example, an in-out detector can trigger an alarm when someone enters a restricted area. For example, analysis can also help you make smarter decisions about resource allocation and reduced routine patrols. Our partners will also provide a number of other advanced analytics applications that can be added to d201-s XPT Q6055. And with an open platform and ONVIF compliance, d201-s XPT Q6055 can be easily integrated into any monitoring system.