News center
Contact us
Add: 19-702,SongQuan Villa,Taibai Road,Luohu,Shenzhen,China
Tel: +86-755-25512007
Fax: +86-755-25512007-2005
Email: sales@conterway.com
Product show
SONY's new BRC-H700 hd video conference cameras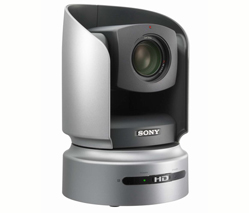 Product Numbers:BRC-H700
Price:0
Product introduction:SONY's new BRC-H700 hd video conference cameras
SONY's new BRC-H700 hd video conference cameras
High definition, universal type, yuntai color video camera, a stunning image quality.
New BRC - H700 high-definition color video camera, is a universal type of small yuntai color video camera system, can achieve high precision and wide range of roll/pitch/zoom function, without the need for complex cable connection and installation. Using three 1/3 inch HD CCD, effective pixels is as high as 1070000.
It can be used to choose the Sony RM - BR300 remote control, equipped with a joystick, according to the principle of ergonomics design can through the camera control interface (RS - 422 or RS - 232 - c), using the VISCATM protocol, for precise control.
When using the choose and buy of optical multiplexer, optical multiplexer CARDS and cable, users can control the camera and 1000 m from the farthest BRC - H700 digital image data and audio transmission equipped with a card slot, you can plug all kinds of interface card of choose and buy, so as to make it compatible with a variety of different systems. These CARDS support of choose and buy signal including hd-sdi, SD/SD - SDI (transform), HDVTM system using i.L INK, XGA designate and computer. In addition, it also includes the function of image rollovers, installation flexibility, and can be up to 16 preset position, make the operation easy.
These outstanding technical features, make the BRC - H700 be the ideal choice for many kinds of high definition filming applications. It also for large screen display image is very suitable for remote, such as church, meeting rooms, hospitals, enterprises achieve the classroom, as well as sporting events, trade shows and concerts. The BRC - H700 high-resolution images can also be used for distance education application, for example when teaching on the blackboard or whiteboard. Excellent choice, in addition, it is broadcast applications such as shooting TV programs, or camera used to record the weather. In the face of the increasing application of the BRC - H700 is your preferred high-definition cameras.
features
CCD type: three pieces of a third of an inch IT total effective CCD pixels: about 1.07 million pixel signal system: 1080/59.94, 1080/50 I (convertible) synchronization system: internal/external lens: 12 x optical zoom, 48 x digital zoom, Carl Zeiss Vario - Sonnar T * focal length: f = 4.5 to 54.0 mm (F1.6 to f) has recently taken from: 800 mm (distal) level perspective (not including image stabilizer) : 5.5 ° (distal) - 60.3 ° (wide) vertical perspective (not including image stabilizer) : 3.12 ° (distal) - 36.2 ° (wide) focusing system: automatic/manual shaking pat pitching Angle: - 170 ° to + 170 ° (pat), + 90 ° to 30 ° - (pitch) remote shoot/pitching speed: 0.25 °, 60 ° / SEC/pitch (remote) signal-to-noise ratio: 50 dB video output (standard) : analog RGB, Y/Pb/Pr video output (choose) : HFBK - HD1: hd-sdi, HFBK - SD1: transformation under the SD (RGB, Y/Cb/Cr, Y/C composite, SDI x2) HFBK - XG1: WXGA, XGA, VGA, HFBK - TS1: HDV power supply: DC 12 v
optional
Bruce - H700 HD optical multiplexer RM - BR300 remote control unit BRBK - H700 HD optical multiplexer CARDS, with audio input (RCA) HFBK - HD1 hd-sdi interface card, hd-sdi, HD analog RGB/component HFBK - SD1 SDI interface card, the transformation of SD - SDI, analog RGB/component/S terminal/composite HFBK - XG1 XGA interface card, WXGA, XGA (mailbox, trimming), VGA (mailbox, trimming) CCFC - M100HG 1 oom two core multi-mode fiber optic cable, including extension plug CCMC - 9 ds RGB/component, Y/C cable core (9 D - Sub) CCXC - 9 DBS RGB/component, VBS cable core (9 D - Sub) HFBK - TS1 i.L ink (HDV) card, with audio input (RCA)