News center
Contact us
Add: 19-702,SongQuan Villa,Taibai Road,Luohu,Shenzhen,China
Tel: +86-755-25512007
Fax: +86-755-25512007-2005
Email: sales@conterway.com
Product show
Bosch NTI-51022-A3S 2MP 2.8-12mm, automatic, IP66 SMB bullet type outdoor POE gun machine network camera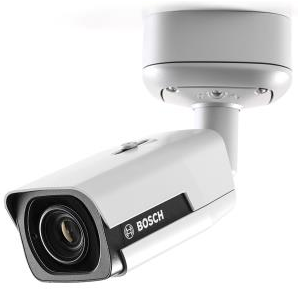 Product Numbers:NTI-51022-A3S
Price:0
Product introduction:Bosch NTI-51022-A3S 2MP 2.8-12mm, automatic, IP66 SMB bullet type outdoor POE gun machine network camera
Bosch NTI-51022-A3S 2MP 2.8-12mm, automatic, IP66 SMB bullet type outdoor POE gun machine network camera

Business Type: NTI-51022-A3S

Product number: F.01U.359.507

NTI-51022-A3S Bullet 2MP 2.8-12mm, automatic, IP66 SMB

It's easier to install with auto zoom/focus lens, setup wizard and pre-configuration mode.

Built-in infrared light to view objects 30 meters (98 feet) away

1080p sharpness, providing clear images

Areas of interest and E-PTZ

IP66 Surface Installation Box

Power Supply

Input voltage Ethernet power supply (rated 48 VDC); or 24 VAC + 10% / +12 VDC + 10%.

PoE IEEE Standard IEEE 802.3af (802.3at Type 1) Power Level: 3 Categories

950 mA (12 VDC) 750 mA (24 VAC) 260 mA (PoE)

sensor

Sensor type 1/2.8 inch CMOS

Effective picture pixels 1937 (horizontal) x 1097 (vertical); about 2.12 MP

Video Performance-Sensitivity

Sensitivity --(3200K, reflectivity 89%, F1.4, 30IRE)

Color 0.07 LX

Black and white 0.05 LX

0.0 LX with infrared lamp

Video Performance Dynamic Range

Dynamic Range 76 dB WDR

Video streaming

Video compression H.264; M-JPEG

Data stream Multiple configurable H.264 and M-JPEG data streams, configurable frame rate and bandwidth. Region of Interest (ROI)

Camera processing delay < 55 ms (maximum average at 1080 p30)

GOP structure IP

Encoding time interval 1 to 25 [30] FPS

There are up to eight coding areas, each of which has encoder quality settings.

Video sharpness (horizontal x vertical)

1080p HD 1920x 1080

1.3 MP (5:4) (cropping) 1280 x 1024

720p HD 1280 x 720

D1 4:3 (cropping) 704 x 480

432p SD 768 x 432

288p SD 512 x 288

144p SD 256 x 144

Camera Installation

Basic frame rate 25/30 FPS (PAL/NTSC analog output)

Camera LED lights on/off

Mirror image on/off

Analog Output Gate, 4:3 Mailbox, 4:3 Cutting, 16:9

Location coordinates

Lens guide zoom, autofocus

Video Function - Color

Adjustable image setting contrast, saturation and brightness

White Balance 2500 to 1000K, four automatic modes (basic, standard, sodium lamp, main color), manual mode and holding mode

Video Function-ALC

Day/night automatic (adjustable), color, black and white

Automatic Electronic Shutter (AES); Optional Fixed Shutter (1/25[30] to 1/15000); Default Shutter

Adjustable Infrared Intensity

Video Function-Enhanced

Definition can be selected at the Definition Enhancement Level

Backlight Compensation on/off

Contrast enhancement on/off

Intelligent Dynamic Noise Reduction with Time and Space Independent Regulation Function

I-Defog Intelligent Defog automatically adjusts parameters to get the best picture in foggy or blurred scenes (switchable)

SNR > 55dB

Video analysis

Configure Silent VCA/Profile 1/2/Reservation/Trigger Events

Analysis Type MOTION+

Damage detection can be shielded

Other functions

Scene mode 9 default modes, timetable

Privacy occludes eight separate areas and is fully programmable

Video Verification Gate/Watermarking/MD5/SHA-1/SHA-256

Display tag name; logo; time; alarm information

Pixel counter optional area

Local storage

Internal RAM 60-second pre-alarm video

Memory card slots support up to 32 GB microSDHC/2 TB microSDXC cards. (It is recommended to use 6 or higher categories of memory cards for HD video recording)

Video Continuous Video, Cyclic Video, Alarm/Event/Schedule Video

night vision

30 meters (98 feet)

LED 4 LED High Efficiency Array, 850 Nanometers

Camera lens

Lens type 2.8mm to 12mm autozoom, DC aperture F1.4-360

Lens Base Plate Installation

Horizontal field of view 33-100 degrees

Vertical field of view 19-52 degrees

Input/Output Connection

Analog Video Output CVBS, 1 Vpp, BNC Connector, 75 Ohms, About 500 TV Line Optional Standards

Alarm input short circuit or DC 5V activation

The maximum input ratings of alarm output are 0.5A, 30 VAC/40 VDC

Audio input wire; 10 kOH (typical) 0.707 Vrms

Audio output wire; 16 kOH (typical) 0.707 Vrms

Network Connector RJ45

Audio stream

Standard G.711, 8 kHz sampling rate L16, 16 kHz sampling rate AAC-LC, 48 kbps (at 16 kHz sampling rate) AAC-LC, 80 kbps (at 16 kHz sampling rate)

SNR > 50 dB

Full/Half Duplex Audio Stream

Software

Device Discovery IP Helper

Device configuration via web browser or Configuration Manager

Firmware updates can be programmed remotely

Software View Web Browser; Video Security Client; Video Security App; Bosch Video Management System; Bosch Video Client; or third-party software

Latest firmware and software http://downloadstore.boschsecurity.com/

network

Protocol IPv4, IPv6, IPv6, UDP, TCP, HTTP, HTTPS, RTP/RTCP, HTTP, HTTPS, RTTP, HTTP, HTTPS, RTP/V2/V3, IGMP V2/V3, ICMP, ICMPv6, RTSP, FTP, ARP, DHCP, APIPA (Auto-IP, link local address), NTP (SNTP), NTP (SNTP), SNMP (V1, V3, MIB-II), 802.1x, 802.1x, DNS, DNSv6, DNSv6, DDNDNS (DyDNS. org, selfDNHOST. De De de, no-ip, no-ip, SMIP, com, SMMP V2/V3, DP, DiffServ (QoS), LLDP, SOAP, Dropbox (), CHAP, digest authentication

Encrypted TLS 1.0/1.2, AES128, AES256

Ethernet 10/100 Base-T, Automatic Detection, Half-Duplex/Full-Duplex

Connect Auto-MDIX

Interoperability ONVIF Profile S; ONVIF Profile G; GB/T 28181

Mechanical parameters

3-axis adjustment (horizontal/vertical/rotary) 360/90/360

Dimensions (high x width x thickness) 271 x 90 x 90 mm (10.7 x 3.5 x 3.5 inches) (excluding SMB)

Camera weight (excluding SMB) 1.3 kg (2.9 pounds)

SMB weighs 0.67 kg (1.48 pounds)

Color RAL 9006

Environmental parameters

The operating temperature can be operated continuously from - 30 C to + 60 C (- 22 F to + 140 F); according to NEMA.