News center
Contact us
Add: 19-702,SongQuan Villa,Taibai Road,Luohu,Shenzhen,China
Tel: +86-755-25512007
Fax: +86-755-25512007-2005
Email: sales@conterway.com
Product show
HICC-P-01100EIRV D1 / SVGA Ir Nullet Shaped Network Camera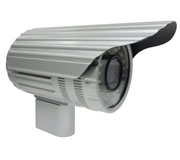 Product Numbers:HICC-P-0100EIRV D1/ SVGA
Price:0
Product introduction:HICC-P-01100EIRV D1 / SVGA Ir Nullet Shaped Network Camera
HICC-P-01100EIRV D1 / SVGA Ir Nullet Shaped Network Camera
Honeywell eirv HICC - P - 0100 type infrared bullet network camera, is a combination of world-class imaging and IP network camera technology and innovation technology, provides users with D1 / SVGA @ 25/30 FPS image image. Is the need for high security level monitoring in the field of ideal solution.
HICC - P - 0100 eirv the camera and lens compact integrated together, can help customers more quick and convenient installation. Through the adoption of the industry's leading h. 264 HP (High Profile) compression way, effectively save the network bandwidth and storage space.
Built-in adjustable focal automatic aperture lens that allows users to adjust to the best Angle according to site monitoring environment. Under the environment of low illumination or completely black, HICC - P - 0100 eirv built-in 20 meters lamp can help to fill light environment, to provide users with a clear black and white picture.
HICC - P - 0100 eirv support PoE Ethernet power supply function, by cable directly to the network cameras and a built-in infrared lamp power supply, helps the user to save the use of the power adapter, and effectively reduce the installation cost. To increase the HICC - P - 0100 eirv installation flexibility, the network camera supports DC 12 v and 24 v AC power supply.