News center
Contact us
Add: 19-702,SongQuan Villa,Taibai Road,Luohu,Shenzhen,China
Tel: +86-755-25512007
Fax: +86-755-25512007-2005
Email: sales@conterway.com
Product show
Panasonic WV-ASM200/CH System Manager Software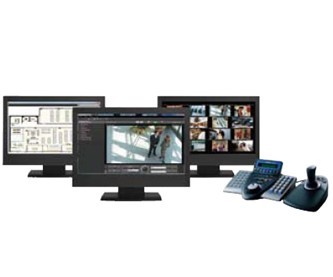 Product Numbers:WV-ASM200/CH
Price:0
Product introduction:Panasonic WV-ASM200/CH System Manager Software Support 16:9 video stream and 16:9 HD monitor (HD).The same display screen can display the network camera 16:9 and 4:3 video images. Downloadable SD/SDHC memory card of h. 264 video
Panasonic WV-ASM200/CH System Manager Software
Support and 16:9 hd monitor 16:9 video streams.
On the same screen video from the IP camera ratio of 16:9 and 4:3.
SD/SDHC memory card storage of h. 264 video data can be downloaded.
The file format from N3R (special format) converted to MP4 format.
Can register up to 100 VCRS, 100 encoder and 256 computers connected directly to register the camera.
Video recorder can register up to 6400 cameras, encoders can register up to 256 cameras, these can be automatically registered to WV - ASM200 management software (the camera registration number depend on the number of video recorder and encoder).
Can be directly obtained from or through the video camera/encoder scene image, realize flexible network layout.
Monitor selection function more support at the same time to operate on the specified monitor display (1/4 images / 9/16), the display (1/4 images / 9/16) and map display.
A monitor or two monitors also this operation can be performed.
One-time use display and field operation function can show 20 screen at the same time.
* 1 with WV - ASE202 extension software, operational showed a maximum of 64 images.
Up to 16 x30ips/camera image can be displayed as h. 264 1.5 Mbps formats (VGA: ordinary quality mode) or 2 Mbps mpeg-4 format (VGA: ordinary quality mode, QVGA: high quality mode, depending on the camera and camera Settings).
Support 400 camera crew: most used in operation shows that the cameras and more picture of model can be arranged to set or by manual operation call or order.
Image resolution can be dynamically according to screen mode transformation: VGA mode for 4 footage showed QVGA models used in 16 footage showed optimal network usage (depending on the camera model).
Rotate/pitch, zoom, focus, brightness, preset programming and call (256), automatic mode, AUX 1 ~ 3, click on the middle and scroll to zoom, designated area with the mouse drag zoom (depending on the camera model).
A camera, a camera crew or a sequence in the display of operation by ID and the choose and buy of WV - CU950 * 1 call the system controller.
In the active window shows the camera can be controlled through the system controller.
Video playback also can use the system controller and worldwide/Shuttle.
Warning notice: can pop up and display the alarm information box.
Separate alarm reset.
Operation shows, live shows and the map shows the corresponding response for alarm respectively.
Red display the current alarm log.
Alarm occurs, the monitor display the alarm automatically switch to the map mode.
Graphic cameras, alarm and video icon can be intuitive operation.
Up to 64 camera icon on the map free positioning, alarm status with the color of the icon indicates.
* 1
An operation can download up to 64 cameras (link) and WJ - ND400 recorded images.
Download images by browsing software browsing (provides).
Complex user management: user password authentication to use time limit, the five level of the user, the user camera browse/control respectively, and the user management function of collaboration, up to 32 registered users.
System logs can be stored as CSV format.
As the stipulated time (31/92) / 84/366 day overdue, operation log will automatically be removed.
Can hear the audio from video camera, through the network operator's voice can be transmitted to the camera's audio output.
Every time (mono, full-duplex/half duplex depends on the camera)
With WJ ND200, WJ ND400 or WJ - NV200 connection can recorded audio playback.
Every time (mono)
WJ - NT314 video analysis functions, such as intrusion detection and target to give up/removing detection can be displayed.
When and WJ - ND400 series, WJ - HD716, WJ - NV200 connection, when using VMD search operation.
* 1 WV - ASE201 necessary.