News center
Contact us
Add: 19-702,SongQuan Villa,Taibai Road,Luohu,Shenzhen,China
Tel: +86-755-25512007
Fax: +86-755-25512007-2005
Email: sales@conterway.com
Product show
AXIS Q6045-E PTZ Dome Network Camera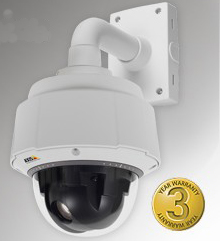 Product Numbers:Q6045-E
Price:0
Product introduction:HDTV 1080p and 20x optical zoom Outdoor-ready and Arctic Temperature Control Vandal-resistant and shock detection Intelligent video including highlight compensation High Power over Ethernet Wide area coverage AXIS Q6045-E
HDTV 1080p and 20x optical zoom
Outdoor-ready and Arctic Temperature Control
Vandal-resistant and shock detection
Intelligent video including highlight compensation
High Power over Ethernet
Wide area coverage
AXIS Q6045-E is a top-of-the-line, outdoor-ready PTZ dome offering HDTV 1080p, 20x optical zoom, and fast and precise pan/tilt performance for wide area coverage and great detail when zooming in. It is ideal for city surveillance, airports, train stations, harbors and stadiums.

Click on image for the full view of a wide snapshot from AXIS Q6045-E. Reliable operation
Designed for easy and reliable installation, the camera is vandal-resistant (IK10) and has shock detection, surge protection (railway standard), and protection against dust, rain and snow (IP66 and NEMA 4X). It can operate in temperatures ranging from -50 ºC to 50 ºC (-58 ºF to 122 ºF). The camera's Arctic Temperature Control ensures safe start-up in extreme cold.
The robust AXIS Q6045-E is designed for round-the-clock pan/tilt/zoom operation. It can be automatically directed to 256 preset positions using guard tour. AXIS Q6045-E can tilt 20º above the horizon, making it possible for the camera to see higher than its mounting position. This is helpful, for instance, at a stadium where there is a need to look up at the stands.
Great detail with HDTV
AXIS Q6045-E offers a wide horizontal viewing angle at 62.98°. The camera's 20x optical zoom, in combination with HDTV 1080p resolution, provides superb zoomed-in views, enabling, for instance, the license plate of a vehicle to be read some 275 m (900 ft.) away.
Intelligent video
AXIS Q6045-E comes with built-in basic analytics such as highlight compensation, object removed, fence detector, object counter and enter/exit detection. It also supports autotracking and Active Gatekeeper. With Active Gatekeeper, the camera can automatically move to a preset position when motion is detected in a pre-defined area, and track the detected object. The camera also has substantial capacity for third-party intelligent video applications that are based on the AXIS Camera Application Platform.

AXIS Q6045-E supports highlight compensation, which masks bright lights such as headlights for ease of viewing. At left, a cropped image from AXIS Q6045-E without highlight compensation, and at right, a cropped image with highlight compensation. AXIS Q6045-E has a built-in memory card slot for local storage of recordings. The camera is powered by High Power over Ethernet using the supplied High PoE midspan.