News center
Contact us
Add: 19-702,SongQuan Villa,Taibai Road,Luohu,Shenzhen,China
Tel: +86-755-25512007
Fax: +86-755-25512007-2005
Email: sales@conterway.com
Product show
AXIS P7224 four-channel video encoder blade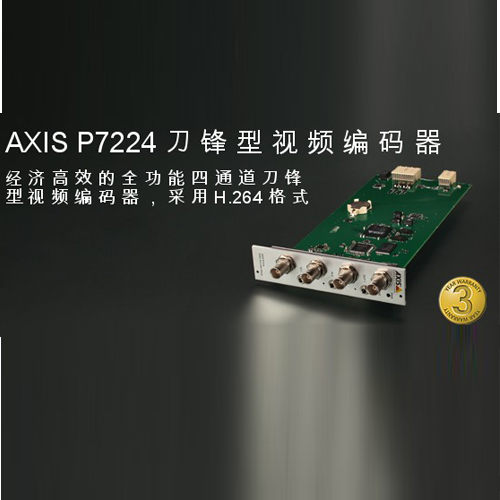 Product Numbers:AXIS P7224
Price:0
Product introduction:AXIS P7224 four-channel video encoder blade
AXIS P7224 four-channel video encoder blade
Full frame rate in all resolutions
Simultaneous H.264 and Motion JPEG
High resolution quad-view
Two-way audio
PTZ support
High performance, 4-channel solution with excellent audio quality
AXIS P7224 Video Encoder Blade is a cost-effective four-channel video encoder blade with great video performance and excellent audio quality. It can simplify migration to network video without upgrading existing camera systems. When AXIS P7224 blades are used with AXIS Q7900 Rack, up to 56 analog cameras can be supported in one 4U, 19-inch rack. The blade can also be used with the AXIS 291 1U Video Server Rack.
Powerful and full-featured
AXIS P7224 supports all types of analog cameras including PTZ (pan/tilt/zoom) and PTZ domes. The video encoder features both RS-422 and RS-485 for controlling analog PTZ cameras. Configurable inputs/outputs can be connected to external relays and sensors for activating lights, locking/unlocking doors etc.
尺寸 - AXIS P7224 视频编码器
长度 x 宽度 x 高度:255 毫米 (10.0 英寸) x 129 毫米 (5.1 英寸) x 30 毫米 (1.2 英寸)
重量:210 克 (0.46 磅)