News center
Contact us
Add: 19-702,SongQuan Villa,Taibai Road,Luohu,Shenzhen,China
Tel: +86-755-25512007
Fax: +86-755-25512007-2005
Email: sales@conterway.com
Product show
AXIS Q6045 is a top-of-the-line indoor PTZ dome Network Camera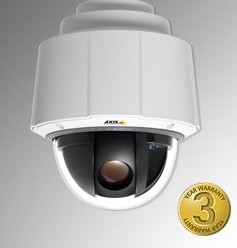 Product Numbers:AXIS Q6045
Price:0
Product introduction:AXIS Q6045 is a top-of-the-line indoor PTZ dome Network Camera
AXIS Q6045 is a top-of-the-line indoor PTZ dome Network Camera
HDTV 1080p and 20x optical zoom
IP52-rated protection against dust and dripping water
Shock detection
Enhanced intelligent video
Power over Ethernet Plus (IEEE 802.3at)
Wide area coverage
AXIS Q6045 is a top-of-the-line indoor PTZ dome, offering a rich viewing experience with HDTV 1080p, 20x optical zoom, and fast and precise pan/tilt performance for superb wide area coverage and great detail when zooming in. It is ideal for airports, train stations, arenas, shopping malls, warehouses and manufacturing facilities.
AXIS Q6045 snapshots: at left, wide view; at right, 20x zoom on people 38 m (125 ft.) away. Click to enlarge images.
Reliable operation
Endless 360° pan and high zoom, in combination with high resolution, enable AXIS Q6045 to monitor an extremely wide area and provide detailed surveillance at great distances. Supporting round-the-clock pan/tilt/zoom operation, the robust camera can be automatically directed to 256 preset positions using guard tour.
AXIS Q6045 has IP52-rated protection against dust and dripping water, and support for Power over Ethernet Plus (IEEE 802.3at) using the supplied High PoE midspan. The PTZ dome also has shock detection, which mechanically detects and triggers an alarm if the camera has been hit.
Intelligent video
AXIS Q6045 comes with built-in video analytics such as highlight compensation (which masks bright lights for ease of viewing), object removed, fence detector, object counter, enter/exit detection, autotracking and Active Gatekeeper. The camera also has substantial capacity for third-party intelligent video applications.
Two-way audio and I/O
With an optional multi-connector cable, AXIS Q6045 supports two-way audio, audio detection, input/output ports for connection to external devices and AC/DC power. The camera has a built-in memory card slot for local storage of recordings.