News center
Contact us
Add: 19-702,SongQuan Villa,Taibai Road,Luohu,Shenzhen,China
Tel: +86-755-25512007
Fax: +86-755-25512007-2005
Email: sales@conterway.com
Product show
AXIS Q1931-E Thermal Network Camera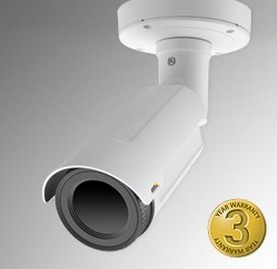 Product Numbers:AXIS Q1931-E
Price:0
Product introduction:AXIS Q1931-E Thermal Network Camera is a perfect complement to any network video system that needs to secure an area 24 hours a day, seven days a week. The camera uses thermal imaging, which allows users to detect people, objects
AXIS Q1931-E Thermal Network Camera
Thermal imaging for IP-Surveillance
Bullet-style design
Multiple lens options
Intelligent video applications included
Power over Ethernet
Full duplex audio
High-quality detection
AXIS Q1931-E Thermal Network Camera is a perfect complement to any network video system that needs to secure an area 24 hours a day, seven days a week. The camera uses thermal imaging, which allows users to detect people, objects and incidents in complete darkness and difficult conditions such as smoke, haze, dust and light fog.
For demanding outdoor video surveillance
AXIS Q1931–E is a bullet-style outdoor-ready model that is designed to withstand harsh weather conditions. It comes with a built-in heater for the window. It's ideal for cost efficient 24/7 area or perimeter surveillance of all security applications such as roads, tunnels and airports.






Thermal imaging

Find out more about the technology and benefits of thermal cameras in video surveillance.

Thermal cameras



Key IP-Surveillance features
AXIS Q1931-E Thermal Network Camera supports H.264 video compression, which reduces bandwidth usage and storage needs by up to 80% compared to Motion JPEG. The camera provides multiple, individually configurable video streams in H.264 and Motion JPEG. AXIS Q1931-E has two-way audio support, which allows the user to communicate with visitors and intruders.
Wide detection range and intelligent video applications
With a resolution of 384x288 pixels and four lens alternatives, AXIS Q1931-E can optimize detection performance to meet most application requirements. Since thermal cameras are less sensitive to problems with light conditions and shadows, they can achieve higher accuracy and less false alarms than conventional cameras in most applications. Intelligent video applications such as cross-line detection and video motion detection are included.
Detection ranges
Focal length
Viewing angle
Detection
mm
Horizontal
Human:
1.8 x 0.5 m
Vehicle:
2.3 x 2.3 m
m
yards
m
yards
Detection
(1.5 pixels on target)
7
50°
220
240
675
740
13
28°
390
430
1200
1300
35
10°
1030
1130
3170
3460
60
6°
1770
1930
5420
5920
Recognition
(6 pixels on target)
7
50°
55
60
170
185
13
28°
100
110
300
330
35
10°
260
280
790
860
60
6°
440
480
1350
1480
Identification
(12 pixels on target)
7
50°
28
30
84
92
13
28°
50
54
150
165
35
10°
130
145
400
440
60
6°
220
240
680
750

The detection ranges are calculated with Johnson's criteria and vary in different weather conditions.
Find nomographs for Axis Q19 Thermal Network Camera series (meters) (pdf) or nomographs for Axis Q19 Thermal Network Camera series (yards)(pdf) to determine the relation between the focal length of the lens, the number of pixels across the object, and the range.