News center
Contact us
Add: 19-702,SongQuan Villa,Taibai Road,Luohu,Shenzhen,China
Tel: +86-755-25512007
Fax: +86-755-25512007-2005
Email: sales@conterway.com
Product show
AXIS P12 Network Camera Series offers tiny HDTV 720p cameras for exceptionally discreet indoor and outdoor surveillance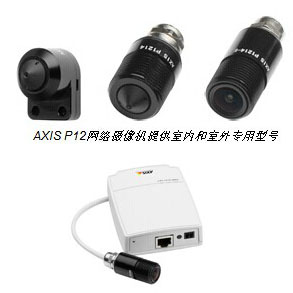 Product Numbers:AXIS P1200
Price:0
Product introduction:AXIS P12 Network Camera Series offers tiny HDTV 720p cameras for exceptionally discreet indoor and outdoor surveillance
AXIS P12 Network Camera Series offers tiny HDTV 720p cameras for exceptionally discreet indoor and outdoor surveillance
Functional and extremely discreet design
Easy and flexible installation
HDTV 720p
Edge storage
Multiple H.264 streams
Power over Ethernet
Extremely discreet surveillance
AXIS P12 Network Camera Series offers tiny HDTV 720p cameras for exceptionally discreet indoor and outdoor surveillance. The design allows the cameras to easily blend in with the environment. They are ideal for ATMs (automated teller machines), banks, stores, hotels, architectural buildings and offices. The cameras can be installed on or flush-mounted in walls or ceilings, in elevators or in limited spaces such as in ATMs or doorways.

AXIS P12 Network Cameras are available in indoor and outdoor models with horizontal field of views of up to 145°.
Innovative design
An AXIS P12 camera comprises a sensor unit (consisting of the lens and image sensor) with an 8 m (26 ft.) cable, and the main unit (with network, power and input/output connections and a memory card slot). The cable connects the two parts, enabling the sensor unit to be installed discreetly in tight places, and the main unit to be placed elsewhere. AXIS P12 Series can be powered either over Ethernet, or by external power supply.
Intelligent video capabilities
AXIS P12 cameras support intelligent video features such as motion detection, tampering alarm and I/O ports for connecting external devices. AXIS Camera Application Platform support is also provided.
Convenient video management
AXIS P12 cameras offer a convenient video management solution with their built-in microSDHC memory card slot for edge storage and support for software such as the complimentary AXIS Camera Companion. Video streams can be encoded in H.264 and Motion JPEG.