News center
Contact us
Add: 19-702,SongQuan Villa,Taibai Road,Luohu,Shenzhen,China
Tel: +86-755-25512007
Fax: +86-755-25512007-2005
Email: sales@conterway.com
Product show
AXIS Q1765-LE Has 18x Optical Zoom and Automatic Zoom Function Type 1080P a Bullet Outdoor Private Network Camera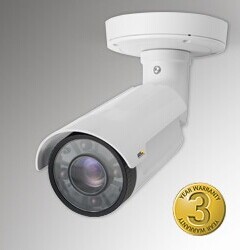 Product Numbers:AXIS Q1765-LE
Price:0
Product introduction:AXIS Q1765-LE Has 18x Optical Zoom and Automatic Zoom Function Type 1080P a Bullet Outdoor Private Network Camera
AXIS Q1765-LE Has 18x Optical Zoom and Automatic Zoom Function Type 1080P a Bullet Outdoor Private Network Camera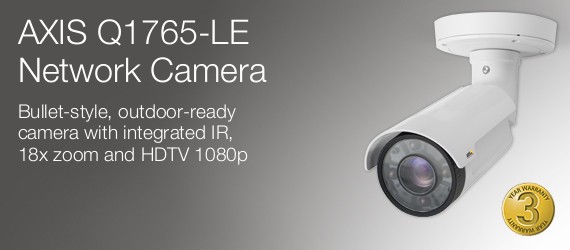 18x optical zoom and autofocus
Built-in IR illumination
HDTV 1080p and H.264
IP66- and NEMA 4X-rated for outdoor use
Axis' unique Corridor Format
Slim, bullet-style design
All features integrated in bullet-style
AXIS Q1765-LE Network Camera is a slim, bullet-style outdoor-ready network camera with 18x optical zoom and auto-focus. It delivers SMPTE-compliant HDTV 1080p video in multiple, individually configurable H.264 and Motion JPEG video streams. The built-in IR illumination is provided by four, auto adjusting LEDs that are highly power-efficient.
AXIS Q1765-LE can cover great distances providing both wide overviews as well as detailed images for identification purposes. In addition, Axis' unique Corridor Format allows effective monitoring with more resolution in vertical scenes such as long streets or long perimeters.

Click on image to enlarge. The image to the left is taken with a digital single-lens reflex camera with a 50 mm lens – thus representing the view of the human eye. The image to the right is a snapshot from AXIS Q1765-LE in 18x zoomed-in view where the license plate of a car 275 m (900 ft.) away can be read.
Convenient installation
AXIS Q1765-LE is very convenient to install thanks to its light weight, one-cable installation, readily directed IR, support for standard Power over Ethernet and 24 VDC/AC input. The cameras mounting bracket is designed for installation on walls or ceiling of buildings for monitoring of entrances and perimeter. Together with compatible accessories, the AXIS-Q1765-LE can be mounted on poles for surveillance of parking lots or general city surveillance purposes.