News center
Contact us
Add: 19-702,SongQuan Villa,Taibai Road,Luohu,Shenzhen,China
Tel: +86-755-25512007
Fax: +86-755-25512007-2005
Email: sales@conterway.com
Product show
AXIS T8133 Midspan 30 W 1-port POE Power midspans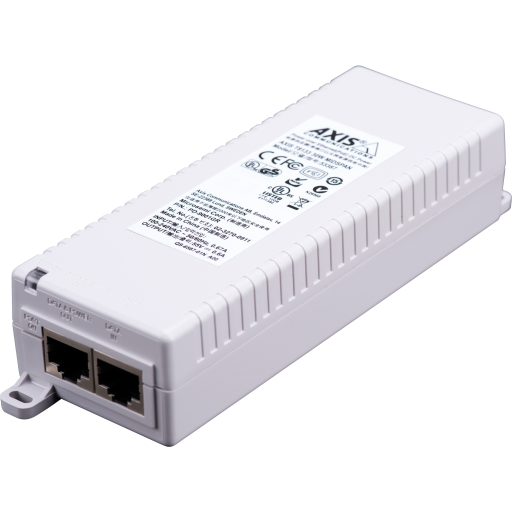 Product Numbers:AXIS T8133
Price:$
Product introduction:AXIS T8133 Midspan 30 W 1-port POE Power midspans,Single port PoE+ midspan, IEEE 802.3at (30 W). The midspan can be installed on a wall, shelf or DIN rail with an accessory DIN clip.
Axis T8133 POE Power
Reduced installation costs
Support for Axis PTZ and PTZ dome network cameras
IEEE 802.3at and IEEE 802.3af compliance
Outdoor-ready models
Easier and faster installations
Axis High Power over Ethernet midspans and splitters offer an easy, fast and cost-effective solution for powering network video products - specifically PTZ (pan/tilt/zoom) and PTZ dome network cameras - without the need to install power outlets and electrical cabling.
Axis High Power over Ethernet (High PoE) midspans and splitters enable Axis network video products to receive data and power over the same Ethernet cable.
The High PoE products make it easier to install network video products in areas where power cabling and outlets are unavailable. Installation costs are thus reduced.
AXIS T8123 and AXIS T8124 with angled connector are midspans designed for use with AXIS T98A-VE Series with an angled connector cable, ending in a pigtail.
Axis network video compatibility
The midspans and splitters conform to the IEEE 802.3at for powering devices with high power requirements on a network. The midspans are also IEEE 802.3af compliant, which means that they can be used with all Axis network video products with built-in PoE support.
The function of a midspan is to inject power into a network cable. A splitter, which separates data and power coming over an Ethernet cable, is used for a network video product without built-in support for PoE.
Outdoor-ready from -40 °C to 65 °C
The outdoor-ready midspans are IP66- and NEMA 4X-rated, with extended temperature range from -40 °C to 65 °C (-40 °F to 149 °F) at certain output power.
AXIS T8123-E and AXIS T8124-E also offer surge protection for both the AC and the PoE ports ensuring the indoor equipment is protected from outdoor surges. Thanks to the IP66-rated RJ-45 connectors, the installer does not have to open the outdoor midspan, just connect the mains cable and the network video product. AXIS T8124-E is only compatible with AXIS Q60-E PTZ cameras.
Axis High Power over Ethernet midspan & splitters
High Power over Ethernet for Axis PTZ & PTZ dome network cameras