News center
Contact us
Add: 19-702,SongQuan Villa,Taibai Road,Luohu,Shenzhen,China
Tel: +86-755-25512007
Fax: +86-755-25512007-2005
Email: sales@conterway.com
Product show
AXIS F41 Main Unit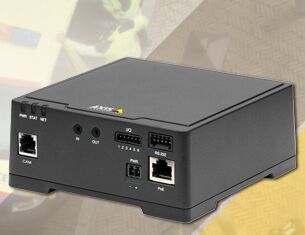 Product Numbers:AXIS F41
Price:0
Product introduction:WDR – Forensic Capture HDTV 1080p at 50/60 frames per second Rugged, easy-to-install design Two-way audio Input/output ports for external devices Full-sized SD card slot Power over Ethernet or DC power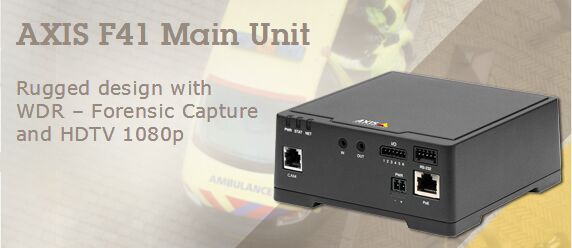 WDR – Forensic Capture
HDTV 1080p at 50/60 frames per second
Rugged, easy-to-install design
Two-way audio
Input/output ports for external devices
Full-sized SD card slot
Power over Ethernet or DC power
Flexible installation
AXIS F41 Main Unit is designed for use with anAXIS F sensor unit in extremely discreet video surveillance applications. The main unit can be installed in a sheltered area up to 12 m (39 ft.) away from a sensor unit, which can be placed in tight places, indoors or outdoors.
Wide Dynamic Range (WDR) – Forensic Capture
AXIS F41 supports WDR – Forensic Capture for superb image detail, even in challenging lighting conditions. Axis' WDR – Forensic Capture enables a high level of detail to be visible in both bright and dark areas of a scene—an important consideration in surveillance applications. The technology is ideally suited for scenarios such as at entrances or in front of ATMs where the subject may be dark against a bright background, or in nighttime situations where the camera must handle low-light environments together with bright lights from vehicles, street lamps, signage and stores.
Scene with backlight. At left, image without WDR – Forensic Capture, where only details in the bright areas are visible. At right, image with WDR – Forensic Capture, where details in both bright and dark areas are visible (click on images to enlarge).
Nighttime scene. At left, image without WDR – Forensic Capture, where the bright areas are over exposed. At right, image with WDR - Forensic Capture, where details in the dark background and details in the brightly lit signage and window display are visible.
HDTV 1080p
AXIS F41 supports HDTV 1080p at 50 or 60 frames per second. This is ideal for capturing fast-moving objects and generating smoother video. It delivers HDTV 1080p at 25 or 30 frames per second when WDR – Forensic Capture is used.AXIS F41, together with an AXIS F sensor unit, provides color video in light as low as 0.3 lux.
Rugged, easy-to-install design
AXIS F41 can withstand tough conditions such as vibrations, shocks and temperature fluctuations, which make it ideal for use in emergency vehicles such as police cars, fire trucks, ambulances and armored trucks such as those used to transport money and other valuable goods. The main unit has also been designed for easy installation in cabinets and small enclosures as all the connectors are placed on one side of the unit so that cables go in one direction and don't take up unnecessary space. The bottom of the unit can also hook directly onto a DIN rail.
Store several days of recording locally on a memory card
With a built-in SD card slot, AXIS F41 gives users the option of storing video locally on a full-sized SD card. It also offers two-way audio and four configurable input/output ports for external devices to enable enhanced alarm management. An RS232 port allows for integration of external data to the video. The main unit can be powered using Power over Ethernet or DC power.
Intelligent video capabilities include video motion detection, active tampering alarm and downloadable applications through the AXIS Camera Application Platform.