News center
Contact us
Add: 19-702,SongQuan Villa,Taibai Road,Luohu,Shenzhen,China
Tel: +86-755-25512007
Fax: +86-755-25512007-2005
Email: sales@conterway.com
Product show
Theia SL410M 4K resolution standard lens true 4K resolution, 12 MP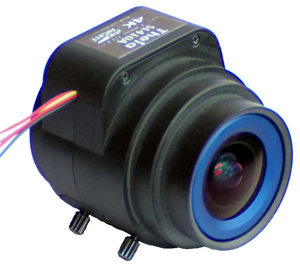 Product Numbers:Theia SL410M 4K
Price:0
Product introduction:Theia SL410M 4K resolution standard lens true 4K resolution, 12 MP
4K resolution standard lens: SL410/ML410
Theia's standard focal range SL410 (CS mount) and ML410 (C mount) lens is designed for true 4K resolution. With varifocal length from 4-10mm and superior imaging performance, the SL410 and ML410 can be used with image sensors from 1/2.3" up to 1/1.7". The lens is designed to be very compact so it can be used in small enclosures such as 4" domes.
Technical specification for SL410 (v.160223)
View the example images
SL410A
SL410P
SL410M
ML410M
Iris type
DC autoiris
P-iris
Manual iris
Focal length
4-10mm varifocal
F/#
F/1.4 to closed
Resolution
true 4K resolution, 12 MP
IR correction
Yes
Mount type
CS-mount
C-mount
Image sensor size
1/2.3" up to 1/1.7"
Theia's SL410/ML410 lens is designed to be very compact and better image performance compared to competitive products. This lens is designed for use on some of the new 4K box cameras for security and machine vision applications.
The SL410 versions are available with motorized or manual iris and CS mount whereas the sister TL410 versions include motorized zoom and focus, photo interrupter limit switches, and board mount options. The ML410 versions are available with C mount. Contact us if you need an autoiris or p-iris C mount version.
Similar to Theia's other lenses, the SL410 series is a high quality lens designed to allow the installer to take full advantage of the high resolution of 4K, HD, and multi megapixel cameras. The lens can be used on cameras up to 12 megapixel resolution giving a crisp image from edge to edge.