News center
Contact us
Add: 19-702,SongQuan Villa,Taibai Road,Luohu,Shenzhen,China
Tel: +86-755-25512007
Fax: +86-755-25512007-2005
Email: sales@conterway.com
Product show
heia TY180IR 4K resolution fisheye M12 board mount,4K resolution, 12 megapixels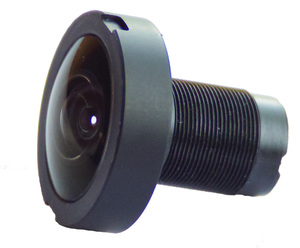 Product Numbers:Theia TY180IR 4K
Price:0
Product introduction:heia TY180IR 4K resolution fisheye M12 board mount,4K resolution, 12 megapixels
Theia's 4K resolution fisheye: TY180IR
Theia's TY180IR fisheye is designed for integration into 360°cameras used for small room surveillance in schools, office spaces, and stores. The lens allows the user to see the entire hemisphere on a single 1/2.3" 4K resolution sensor. The TY180IR is uniquely 12 megapixel resolution and day/night corrected.
Technical specifications for TY180IR
View the example fisheye images
| | |
| --- | --- |
| | TY180IR |
| Focal length | 1.32mm (4.07mm image circle at 180°) |
| F/# | F/2.0 fixed |
| Resolution | 4K resolution, 12 megapixels |
| IR correction | Yes |
| Mount type | M12 board mount |
| Sensor size | 1/2.5", 1/2.3", and 1/2" |
The TY180IR lens gives a full circle image on the 1/2.3" and larger sensor sizes. This allows the user to see a full hemisphere on the sensor. Theia does not provide any software for dewarping the image as that is typically developed by the camera manufacturer.
The fisheye lens is also available in day only version if there is no day/night cut module in the camera. The day only version includes an IR blocking filter in the lens. This version is TY180F.
The lens is IR corrected for use with true Day/Night cameras. This IR correction focuses IR light from artificial illumination at the same plane as the visible light allowing the image to remain in focus when the Day/Night camera switches to night mode. Unlike lenses without IR correction, the night image will not be out of focus when using IR illumination.