News center
Contact us
Add: 19-702,SongQuan Villa,Taibai Road,Luohu,Shenzhen,China
Tel: +86-755-25512007
Fax: +86-755-25512007-2005
Email: sales@conterway.com
Product show
AXIS Camera Station S1048 Mk II Recorder Out-of-the box ready server for high definition surveillance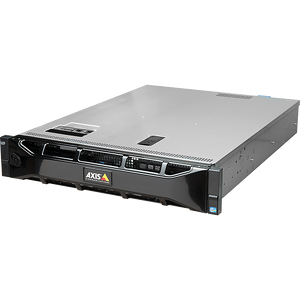 Product Numbers:AXIS Camera Station S1048 Mk II
Price:0
Product introduction:AXIS Camera Station S1048 Mk II Recorder Out-of-the box ready server for high definition surveillance
AXIS Camera Station S1048 Mk II Recorder
Out-of-the box ready server for high definition surveillance
Ease of installation
Validated with extensive support
High Definition surveillance up to 4K
AXIS Camera Station included
Full compatibility with Axis' products
AXIS Camera Station S1048 Mk II Recorder is an out-of-the box ready rack server optimized validated for reliable High Definition surveillance. AXIS S1048 Mk II is preloaded with all necessary software and preconfigured to minimize installation time. Completed with cameras from Axis wide product portfolio, screens and a desktop terminal it forms a plug and play solution for mid-sized installations up to 64 cameras where active surveillance is needed.
Out-of-the-box ready
AXIS S1048 Mk II is designed for quick installation in any office environment. The recorder is preloaded with AXIS Camera Station video management software, 48-channel licenses and other necessary system software. System settings such as camera and storage configurations are preconfigured to further simplify system setup.
Maximum reliability
Hardware components such as hard-discs and graphic card are optimized to meet the demands for reliable high definition surveillance. If more storage capacity is needed the recorder has two empty bays for additional hard disks. The solution is extensively tested to perfectly match our wide range of products.
First-class support
Support for multi-vendor solutions can be challenging when it comes to troubleshooting and product warranties. With Axis as the single point of contact, you can feel confident that any problem that may arise will be handled quickly and efficiently. Our team of over 100 highly experienced Technical Support engineers world-wide can provide you expert assistance wherever you are, whenever you need it. AXIS S10 Recorders include a 3-year hardware warranty and in most countries, we offer an unbeatable onsite hardware replacement service– a valuable benefit over traditional warranty replacement processes.
AXIS Camera Station for effective surveillance
AXIS Camera Station offers an intuitive user interface providing all necessary features for effective surveillance such as flexible live-view layout, site maps, powerful event configuration, efficient alarm management and responsive PTZ control. Quick investigation and retrieval of evidence for safe and secure export is enabled by intuitive timeline visualization and an efficient video search.
Important
We always recommend updating to the latest version of Axis Camera Station, to benefit from the latest features as well as software improvements.
AXIS Site Designer for easy and reliable system design
AXIS Site Designer makes it easy to design and install your system, the tool provides useful installation documentation as well as possibility to export all configurations to AXIS Camera Station to eliminate installation mistakes. To further safeguard system up-time AXIS Camera Station offers the possibility to verify system performance at installation.
AXIS Site Designer
Makes it easy to design and install your system and export all configurations to AXIS Camera Station to eliminate installation mistakes.
AXIS Site De
signer