News center
Contact us
Add: 19-702,SongQuan Villa,Taibai Road,Luohu,Shenzhen,China
Tel: +86-755-25512007
Fax: +86-755-25512007-2005
Email: sales@conterway.com
Product show
Arsen AXIS q1647-le outdoor 5 million infrared gun camera network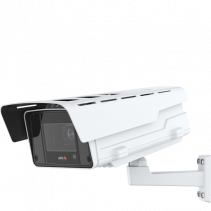 Product Numbers: Q1647-LE
Price:0
Product introduction:Arsen AXIS q1647-le outdoor 5 million infrared gun camera network
Anxun AXIS q1647-le outdoor 5 million infrared gunner Network Camera Network Camera
5MP video with 1/2 "sensor and OptimizedIR 5MP video and 1/2" sensor "and" OptimizedIR"
Start - up to 40 ° to 60 ° C in C (- 40 ° F to 140 ° F)
5 MP at 25/30 FPS
1/2' sensor and i-cs lens
Electronic image stabilization (EIS)
Forensic WDR, Lightfinder and Zipstream
The Included analytics,
Start - in - 40 ° C 60 ° C (140 ° F to 40 ° F)
5 / MP at 2530 FPS
1/2 "I CS lens and sensor
Electronic image stabilization (EIS)
Forensic scientists WDR, lightfinder and zipstream
Included in the analytics
AXIS q1647-le Network Camera is an advanced, outdoor- Camera ready that's sharp in more ways than one: It delivers high - resolution video at full frame rate for crystal - clear images even in tricky lighting. And with OptimizedIR, you 'r e ensured high - quality, low noise video, even completely in darkness.
Ann - James Q1647 LE network camera is an advanced, outdoor camera ready, sharp in several aspects: it provides high resolution video in full frame rate for clear images, even in difficult lighting. With OpthiMiZeDR, you can ensure high quality, low noise video, even in complete darkness.
Sharp? Razor sharp!
Full resolution. Superior light sensitivity. That's the difference between an image That's sharp and one That's razor sharp. Simply put, AXIS q1647-le is a camera that's second to none. Electronic image stabilization (EIS) and Axis Forensic WDR which ensures a perfect balance in scenes with strong variations in light, and the 1/2 "sensor and Axis Lightfinder enable outstanding image The usability in poor light.
Full resolution. Full frame rate. High sensitivity light. That's the difference between that's an Image and one that's sharp and sharp. Let's call it q1647, the asensis is the camera which is Second to None. At you get up to 5 MP 30 FPS electronic image stabilization (EIS) axis and perfect balance to ensure forensic WDR with strong in Light in scene changes. And the 1/2 axis sensor's visuality and excellent lightfinder Enable in Poor light.
Rough and ready
So let's say that over here, AXIS Q1647 - LE can handle the start - up temperatures as low as to 40 ° C and as high as 60 ° C (- 40 ° F to 140 ° F). It features powerful IR for the effective surveillance in pitch darkness. And with IP66, IP67, NEMA 4X and IK10 ratings, You can be sure that the camera housing is resistant to both harsh weather the conditions and impact. It even sports defog functionality that automatically filters out fog to dojo.provide clearer video.
That 's one smart camera
AXIS q1647-le is chockfull of intelligent features that facilitate smart decision making, enhanced security, first-class image usability, and fast, Easy installation. It comes pre-installed with AXIS Motion Guard, AXIS Fence Guardand AXIS Loitering Guard analytics for proactive surveillance and saved resources.
An orientation aid enables dynamic overlays with street names and a compass symbol for orientation if you're using quick monitors multiple. And you can choose between three profiles scene, Which automatically optimizes exposure time, white balance, aperture, sharpness, contrast and noise for every camera in your surveillance solution to suit specific use scenarios.
In addition, intelligent I - CS lens technology facilitates fast and easy installation and adjustment, which else minimize time and money spent on the installation.
See how engineers we found a solution to handle heat when designing new outdoor cameras from AXIS Q16 Network Camera Series.