News center
Contact us
Add: 19-702,SongQuan Villa,Taibai Road,Luohu,Shenzhen,China
Tel: +86-755-25512007
Fax: +86-755-25512007-2005
Email: sales@conterway.com
Product show
AXIS p1368-e network camera has outdoor 4K monitoring for i-cs lens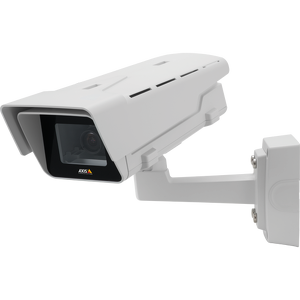 Product Numbers:P1368-E
Price:0
Product introduction:AXIS p1368-e network camera has outdoor 4K monitoring for i-cs lens
AXIS p1368-e network camera
Outdoor 4K monitoring with i-cs lens
Provides excellent detail in 4K resolution
Temperature range: 55 ° C to 40 ° C to 40 ° F to 131 ° F (-)
Light seekers and WDR wide dynamic shadow hunting techniques
The i-cs lens provides clear images and is easy to install
Zipstream
- p1368e - angleleftp1368 - wallp1367e68einterior
The AXIS p1368-e network camera is a non-refined outdoor camera that provides an excellent video with 4K resolution in almost all environments. It is ideal for urban monitoring and other applications that require superior detail.
Capture panoramic
AXIS p1368-e gives you 4K resolution and lets you choose lenses that best suit your monitoring needs, such as those that can cover longer distances. In any light condition, the AXIS P1368 - E can provide optimize images for judicial authentication purposes: it provides excellent light sensitivity and Ann technology - and find the light, and even in the darkness of environment also can obtain high quality color images. Intelligent i-cs technology can provide extremely accurate aperture control, so as to provide the most clear image under the condition of light changes. WDR wide dynamic shadow hunting technology can provide excellent details when the scene has both bright and dark areas.
Designed for greater outdoor space
AXIS p1368-e is ready for outdoor installation in severe conditions. It can withstand the intermittent low to 40 ° C - as well as high as 55 ° C temperature (to 40 ° F to 131 ° F). Since it has IP66, NEMA 4X and IK10 ratings, you can ensure that the camera cover can withstand severe weather conditions and disruptive behaviour. The hood also features an innovative new interior structure that provides ample space for larger lenses. Switching to corridor mode is also easier than ever.
Very simple to install
AXIS p1368-e's intelligent i-cs lens technology is fast and easy to install and adjust. And zoom can be set remotely. In short, you'll save both time and money.
Clear image. Low bandwidth
AXIS p1368-e is equipped with amex Zipstream technology, which can analyze video stream in real time to determine the focus area. These areas are compressed slightly less than other areas, preserving important details of the overall image quality while reducing storage and bandwidth by as much as 50 percent. The result is high quality images and significant bandwidth savings.