News center
Contact us
Add: 19-702,SongQuan Villa,Taibai Road,Luohu,Shenzhen,China
Tel: +86-755-25512007
Fax: +86-755-25512007-2005
Email: sales@conterway.com
Product show
Asx AXIS p1125-z has a cost-effective high performance high performance fixed network gun camera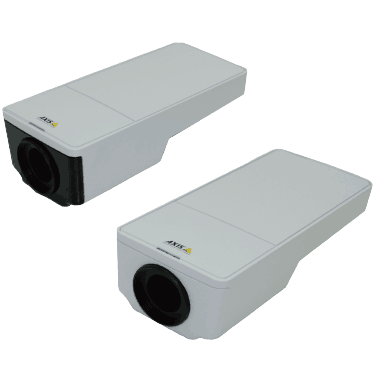 Product Numbers:P1125-Z​
Price:0
Product introduction:Asx AXIS p1125-z has a cost-effective high performance high performance fixed network gun camera
Asx AXIS p1125-z has a cost-effective high performance high performance fixed network gun camera
AXIS P11 series network camera
High performance high definition fixed camera series with cost efficiency
AXIS P11 series network camera series, indoor applicable, including AXIS p1125-z, AXIS p1126-z, AXIS p1125-zl and AXIS p1126-zl. Among them, AXIS p1125-z and AXIS p1125-zl can provide HDTV 1080p resolution images. AXIS p1126-z, AXIS p1126-zl can also provide high quality images up to 4 million pixels. This series of cameras supports amex Zipstream to analyze and optimize video streaming while supporting h.265, thus saving bandwidth and storage while maintaining video quality. The AXIS p1125-zl and AXIS p1126-zl cameras have built-in infrared lighting that can reach up to 20 meters. This camera series is ideal for various video monitoring applications such as retail, banking, hotels and other office buildings.
> HDTV 1080p and 4 megapixels video
> amex Zipstream and h. 265, saving bandwidth and storage
> is compact and flexible
> I/O, audio, infrared
The camera
Image sensor 1/3 "scan RGB CMOS line by line
Zoom lens: 2.8-10 mm, F1.6
Horizontal perspective: 97.0 ° 33.0 °
Vertical perspective: 53.0 ° 18.6 °
Automatic removable infrared filter day and night
Minimum illumination color: 0.2 lux, F1.6
Black/white: 0.04 lux, F1.6
AXIS P1125 -- ZL, AXIS P1126 -- ZL: 0 lux when infrared lighting is on
Shutter time: 1/28500s to 2s (with 50 Hz)
Translation/tilt/zoom digital PTZ
video
Video compresses h. 264 (mpeg-4 Part 10/AVC) Main and High formats
265 H.
Motion JPEG
Resolution AXIS P1125 -- Z, AXIS P1125 -- ZL: 1920x1080 to 320x240
AXIS P1126 -- Z, AXIS P1126 -- ZL: 2688x1520 to 320x240
The frame rate is 50/60 FPS at 1080p resolution and the power line frequency is 50/60 Hz
25/30 FPS at 4 million resolution and 50/60 Hz power line frequency
Video streams provide multiple independently configurable h.264, h.265, and Motion JPEG grids
Is the video stream
It USES Zipstream technology
Controllable frame speed and bandwidth
VBR/MBR h. 264, h. 265
The multi-view video stream has up to eight views that can be cropped independently
The image is set to compress, color, brightness, sharpness, contrast, white balance and backlighting
Compensation, image imaging, rotation - including corridor mode, text and image overlay
Addition, privacy mask, rotation: 0 ° and 90 °, 180 °, 270 °, WDR
: up to 120 dB (depending on the scene), exposure control, exposure area,
Fine-tuning behavior under low illumination
audio
Audio stream two-way full duplex
Audio compression AAC LC 8/16/32/48 kHz, g. 711 PCM 8 kHz,
G. 726 ADPCM 8 kHz
Configurable bit rate
Audio input/output external microphone input or line input, line output
network
Secure password protection, IP address filtering, HTTPSa encryption, IEEE 802.1Xa
Network access control, summary authentication, user access logs, centralization
Type certificate management
Supported protocols IPv4/v6, HTTP, HTTPS, SSL/TLS, QoS Layer
3 DiffServ, FTP, CIFS/SMB, SMTP, Bonjour,
UPnPTM, SNMPv1/v2c/v3 (mib-ii), DNS, DynDNS,
NTP, RTSP, RTP, TCP, UDP, IGMP, RTCP,
ICMP, DHCP, ARP, SOCKS, SSH
System integration
Application programming
interface
Open API for software integration, including VAPIX ® and
AXIS camera application platform,
The specification is available at www.axis.com
ONVIF ® Profile S and ONVIF ® Profile G, www.onvif.org
The specifications of the
Intelligent analysis of AXIS Video Motion Detection 4. Active anti-tamper alarm and sound Detection
Frequency detection
Support AXIS camera application platform to install third-party applications, please
See www.axis.com/acap
Event trigger analysis, front-end storage events, external input, audio level, scheduled time
Event action file upload: FTP, SFTP, HTTP, HTTPS, network share and
E-mail
Notification: email, HTTP, HTTPS, and TCP
External output activation
Record video to front-end storage and play audio clips
Video buffer before and after alarm
PTZ presets, rotations, and overlay text
Day/night switching, status LED activation
WDR mode
Send SNMP traps
AXIS P1125 -- ZL, AXIS P1126 -- ZL: infrared lighting on/off
Data flow event data
conventional
Shell color: white NCS S 1002-b
Material: plastic cover, aluminum body
Sustainability does not include PVC
Memory 512 MB SDRAM, 256 MB flash memory
Power AXIS p1125-z, AXIS p1126-z: Ethernet power supply
(PoE)IEEE 802.3af 2, maximum 3.5w
AXIS P1125 -- ZL, AXIS P1126 -- ZL: Ethernet power supply
(PoE)IEEE 802.3af 3, maximum 7.2w
Interface RJ45 10base-t / 100base-tx PoE
I/O: 4-pin 2.5mm terminals for two configurable inputs/outputs
3.5mm microphone/line input, 3.5mm line output
12V DC/24VAC power interface
Storage support microSD/microSDHC/microSDXC card
Support SD card encryption
Support recording to network attached storage (NAS)
For Suggestions on SD CARDS and NAS, see www.axis.com
Working conditions at 0 ° C to 55 ° C
Humidity 10-85% RH (non-condensing)
Certified inspection report
Size 157 x 73 x 48 mm (length x width x height)
Weight AXIS P1125 - Z, AXIS P1126 - Z: 270g
AXIS P1125 -- ZL, AXIS P1126 -- ZL: 275g
Includes attachment installation guide, Windows decoder single user license, AXIS T91A11
stents
Video management software AXIS Companion, AXIS Camera Station, AVMS,
Warranty related to the three-year warranty and extended warranty options of asx,