News center
Contact us
Add: 19-702,SongQuan Villa,Taibai Road,Luohu,Shenzhen,China
Tel: +86-755-25512007
Fax: +86-755-25512007-2005
Email: sales@conterway.com
Product show
Bosch DCN-CCU2 central controller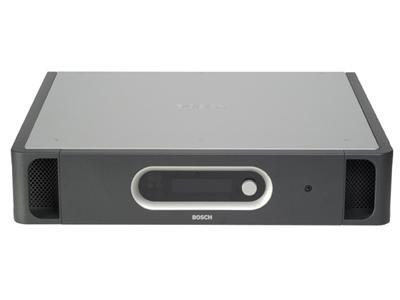 Product Numbers:DCN-CCU2
Price:$
Product introduction:Bosch DCN-CCU2 central controller
Bosch DCN-CCU2 central controller
U are suitable for a new generation of DCN or DCN wireless system or a combination of both
U in the single CCU; Up to 245 cable feed device and 245 no
Line represents the machine
U for multiple CCU system, with as many as 30 CCU, as well as a total of 4000
A feed device
U is suitable for the voice activation of wired and wireless system receiver mode
U used to configure and control the computer's Ethernet connection
The central control unit (CCU) has the following functions: wired and wireless control
Microphone, distribution, simultaneous interpretation and voting session, and not operators
In advance.
When used with a PC, the control unit can provide more perfect meeting point
System functions. Users can access a large number of software modules, each with a specific
Conference control and monitoring functions. These modules, greatly increasing the meeting management skills.
Once PC fails, the controller will converted into independent operation mode, make the meeting
To be able to continue.
The basic function
The basic function
• applies to a new generation of DCN or DCN wireless system or a combination of both (each
System up to a DCN ‑ WAP)
• basic microphone management functions
• four microphone working mode:
- open the microphone button control the request (automatic)
- cover: microphone button cover has open microphone (FIFO)
- voice: voice activation receiver
- press the speech (hold down the button to speak)
, the number of open microphone for 1 to 4
, through the display screen and a single spin/button to CCU and system configuration
• to congress voted to basic voting control of the program. Representatives can register"
Seats ", "yes" and "against" and "waiver". Concentus machine can be President
Start, stop, and pause a vote. Voting results can be displayed in the lobby
In the screen and on behalf of the machine on the LCD screen
Paging functions, used to activate a vote. Chairman, by prompt prompt
Is about to begin a new round of voting
, simultaneous interpretation function, with 31 language channel and one hall language channel, device allocated to the DCN wireless meeting up to 10 languages channels and a will
A language channel
• to Integrus receiver, DCN cable channel selector allocated up to 31
Language channel and one hall language channel
• basic intercom function, can be talk with operators and chairman (can pass
An interpreter call)
• independent automatic camera control
Or increase the conference control, remote control, the use of PC control software
• can adjust the sensitivity of audio input
, which can adjust the audio output level
• audio insertion function, used to connect to external audio processing equipment or phone coupler
• installation personnel to CCU assign a unique name to identify
, through the VU meter reading to monitor audio input and audio output. You can make
Use headphones to monitor the audio
• applies to desktop or 19-inch rack-mount chassis (2 u)
The handle of the portable