News center
Contact us
Add: 19-702,SongQuan Villa,Taibai Road,Luohu,Shenzhen,China
Tel: +86-755-25512007
Fax: +86-755-25512007-2005
Email: sales@conterway.com
Product show
Amex AXIS p1365-e Mk II network camera is specially designed for outdoor use and has excellent photosensitivity. Zipstream is adopted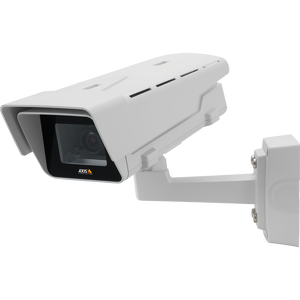 Product Numbers: P1365-E Mk II
Price:0
Product introduction:Amex AXIS p1365-e Mk II network camera is specially designed for outdoor use and has excellent photosensitivity. Zipstream is adopted
Asx AXIS p1365-e Mk II network camera
Outdoor special and excellent photosensitivity, using Zipstream
Strong and shock resistant
To 40 ° C to + 50 ° C (- 40 ° F to + 122 ° F) :
Color image seekers, even when the light is very weak
HDTV 1080p, up to 50/60 FPS
Zipstream - saves bandwidth without sacrificing quality
The AXIS p1365-e Mk II network camera is robust and is designed for harsh outdoor environments, providing superior image quality and detail even in low light conditions. AXIS p1365-e Mk II is the right choice for Banks, government buildings, car parks, or any organizations that require high quality images or coverage of large outdoor areas.
Ready for rough weather
Strong and durable camera
AXIS P1365 - E Mk II can be used for outdoor installation in harsh environments - it can withstand low to 40 ° C and as high as 50 ° C (to 40 ° F to 122 ° F) temperature. And extremely cold temperature control can ensure the security and 40 ° C / ° F low temperature start, even after the power failure occurred. Through IP66, IP67, NEMA 4X and IK10 levels of protection, the camera case can be ensured not only against severe weather conditions, but also against deliberate destruction. AXIS p1365-e Mk II is equipped with wall hanging bracket and shading cover to prevent dust, rain, snow and sun.
Don't be afraid of the dark
AXIS p1365-e Mk II provides images suitable for judicial identification purposes, even if recorded in the dark. It provides excellent photoreceptors and aspheres finder technology for obtaining high-quality color images, even recorded in the dark. WDR - wide dynamic hunting technology can reduce noise, improve image signal, and provide very detailed night images. AXIS p1365-e Mk II also provides HDTV 1080p up to 50 or 60 FPS, so it can capture fast moving objects and people with high resolution image quality.
Clear image. Low bandwidth
AXIS p1365-e Mk II adopts amex Zipstream technology, which can analyze video stream in real time to identify relevant areas. These areas are compressed slightly less than other areas, preserving important details of the overall image quality while reducing storage and bandwidth by as much as 50 percent. The result is high quality images and significant savings.