News center
Contact us
Add: 19-702,SongQuan Villa,Taibai Road,Luohu,Shenzhen,China
Tel: +86-755-25512007
Fax: +86-755-25512007-2005
Email: sales@conterway.com
Product show
HDTV 1080p PTZ semi-spherical network camera, with 20 times zoom function, can shoot video with excellent quality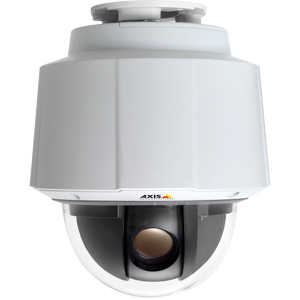 Product Numbers:Q6035 PTZ
Price:0
Product introduction:HDTV 1080p PTZ semi-spherical network camera, with 20 times zoom function, can shoot video with excellent quality
Asx AXIS Q6035 PTZ hemispherical network camera
Indoor HDTV 1080p PTZ semi-spherical network camera, with 20 times zoom function, can shoot video with excellent quality
Stop selling products. Only online support is provided.
For more information, see the support documentation.
Replacement: AXIS Q6045
HDTV 1080p 25/30 frames per second and HDTV 720p 50/60 frames per second
Day/night automatic conversion and h.264
20 optical zoom
IP52 class dust and water proof
Active webguard and roving recording
Ethernet power supply + (IEEE 802.3at)
The AXIS Q6035
The best performance
The indoor AXIS Q6035 PTZ hemispherical network camera can provide hd monitoring for large places and generate very clear details when the image is enlarged. This kind of high-speed PTZ semi-spherical network camera has a rich viewing experience and can provide clear action video and sharp details for identification purposes. It is well suited for critical mission monitoring at airports and casinos.
Excellent video quality
HDTV 1080p complies with SMPTE 274M standard in the following aspects: 1920x1080 pixel resolution (double HDTV 720p resolution), 25/30 frame rate per second, HDTV color fidelity and 16:9 format. AXIS Q6035 also supports the speed of s 50/60 frames per second in HDTV 720p, which is ideal for applications that need to capture fast motion scenarios and more fluid video.
Very detailed
With HDTV 1080 p resolution, the camcorder can autofocus 20 x optical zoom function can provide special detailed enlarged view, you can and has more than twice the performance of optical zoom par 4 cif resolution camera. AXIS Q6035 support conversion function, day and night, even in the case of weak light, can also take clear video, and support for the wide dynamic range is located in the scene of the dark and light area objects more clearly visible.
Advanced PTZ functionality
With its active goalie function, the camera can automatically move to a predetermined position and track the target when moving detection in a specific area.
The camcorder can also easily set using automatic circuit circuit recording function, which can be used as the joystick device to record the operator of the pan/tilt/zoom action, as well as in each of the shooting point of the length of time spent. The tour function can be activated by touching a button, or it can be set to activate at a predetermined time.
Ethernet power supply (PoE) enables easy installation
Support for Ethernet power supply + (High PoE) simplifies installation because power, video, and PTZ control can be provided with just one cable.