News center
Contact us
Add: 19-702,SongQuan Villa,Taibai Road,Luohu,Shenzhen,China
Tel: +86-755-25512007
Fax: +86-755-25512007-2005
Email: sales@conterway.com
Product show
Asx AXIS q6034-e PTZ fast ball network camera is specially designed for outdoor use. It can provide high speed HDTV monitoring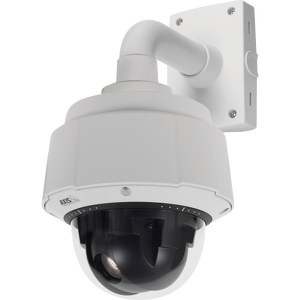 Product Numbers: Q6034-E PTZ
Price:0
Product introduction:Asx AXIS q6034-e PTZ fast ball network camera is specially designed for outdoor use. It can provide high speed HDTV monitoring
Asx AXIS q6034-e PTZ fast ball network camera
Outdoor special, high-speed HDTV monitoring can be provided
Stop selling products. Only online support is provided.
For more information, see the support documentation.
Replacement: AXIS q6044-e
HDTV 720 pixels, day and night conversion function, h.264
18 x optical zoom and 220 ° degrees vertical rotation
Outdoor special, with polar temperature control function
Active webguard and roving recording function
High power Ethernet power supply
The AXIS Q6034 - E
Anxun outdoor monitoring solutions
Outstanding performance
Outdoor special AXIS Q6034 - E PTZ camera hemisphere provides HDTV 720 p resolution, 18 x optical zoom function and level of high-speed rotating/vertical rotation function, realized the wide range of detection and the details of the zoom.
Meet SMPTE standards
AXIS q6034-e provides a rich viewing experience. HDTV 720p complies with SMPTE 296M standard in the following aspects: 1280x720 pixel resolution, full frame speed, HDTV color fidelity and 16:9 format. AXIS Q6034, which is capable of day and night, supports multiple video streams in h.264 and Motion JPEG formats. H.264 not only reduces the image quality, but also greatly reduces the bandwidth and storage requirements.
Can work reliably in extreme weather
AXIS q6034-e with IP66 and NEMA 4X and IK10 levels of protection does not require a hood. Its unique polar temperature control ensures that the camera can operate even at minus 40 degrees Celsius (minus 40 degrees Fahrenheit).
Excellent zoom performance
AXIS q6034-e features automatic focus, 18 optical zoom and 12 digital zoom. The cameras have HDTV resolutions, so its 18 times zoom can not only provide with 36 times zoom 4 cif camera comparable levels of image details, but also has the additional advantage of 16:9 wide field of vision.
The camera also can be carried out at 450 ° of quick and accurate level rotate/vertical response. It can turn over horizontal vertical 20 °, thus can provide a better view (especially on rugged terrain).
Advanced PTZ functionality
With its active network protection function, the camera can automatically move to the preset position when motion detection is carried out in the predetermined area and track the detection target.
The camcorder can also easily set using round tour recording automatic round tour function, which can be used as a joystick device to record the operator level rotate/vertical/zoom action, in every point of interest and the time it takes. The roving function can be activated by touching a button, or it can be set to activate at a predetermined time.
Ethernet power supply (PoE) enables easy installation
The camera also supports a 1-port high power Ethernet power supply (PoE) mid-span
Support for High power Ethernet power supply (High PoE) simplifies installation because power, video, and PTZ control can be provided with just one cable. This camera provides High PoE mid-span.
Note: mounting bracket is sold separately
AXIS q6034-e network camera
AXIS q6034-e PTZ hemispheric network camera provides HDTV quality monitoring in large locations, provides very detailed details when zooming in, and has high speed translation/tilt performance.
Watch video to see how AXIS q6034-e helped the expedition navigate the sailboats and document its journey through the northwest passage of the Canadian arctic, becoming the first sailing vessel to achieve this feat. A press release.