News center
Contact us
Add: 19-702,SongQuan Villa,Taibai Road,Luohu,Shenzhen,China
Tel: +86-755-25512007
Fax: +86-755-25512007-2005
Email: sales@conterway.com
Product show
Amex AXIS q6044-s PTZ stainless steel ball machine network camera resolution HDTV 720p and 30 times zoom function of the pressurized stainless steel PTZ hemisphere camera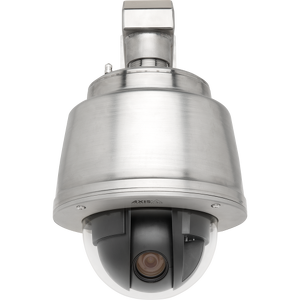 Product Numbers:Q6044-S PTZ
Price:0
Product introduction:Amex AXIS q6044-s PTZ stainless steel ball machine network camera resolution HDTV 720p and 30 times zoom function of the pressurized stainless steel PTZ hemisphere camera
Asx AXIS q6044-s PTZ hemispheric network camera
HDTV 720p resolution and 30 x zoom function of pressurized stainless steel PTZ hemisphere camera
Stop selling products. Support date to 2021-09-01
After this date, see the support documentation.
You can get support as long as the product is under warranty.
Replacement: AXIS q6045-s Mk II
Marine grade stainless steel
Suitable for pressurized nitrogen shell
HDTV 720p and 30 times optical zoom
SFP fiber slot, RJ45 interface
I/O for alarm input/output
Stainless steel and nitrogen design, widely used
AXIS q6044-s is a high-speed surveillance camera with a pressurised marine-grade stainless steel casing. This sturdy, reliable camera has horizontal/vertical rotation/zoom capability, works continuously throughout the day, and has a resolution as high as HDTV 720p.
By autofocus 30 x optical zoom, can turn 360 ° degrees and wide coverage area, to ensure an excellent ability to zoom in detail. This highly durable outdoor camera is ideal for many applications with its stainless steel and pressurized nitrogen design. It is not only suitable for monitoring and remote control of Marine, mining, oil and gas environment, but also can be used for indoor monitoring of food, medicine and clean room manufacturing equipment.
Highly durable
Thanks to its stainless steel (SAE 316L/V4A) case and transparent nylon dome cover, the camera is well protected against corrosion by sea water and cleaning chemicals. The camcorder's working temperature range for - 30 ° C to 50 ° C (- 22 ° F to 122 ° F), has passed the MIL - STD - 810 - g 509.5, IP6K9K, IP66, IP67 and NEMA 4 x authentication, can for salt fog, high pressure and steam jet cleaning, dust, rain, snow, ice and other bad environment to provide reliable protection.
AXIS q6044-s is also designed to be filled with nitrogen, a colorless, non-reactive, non-flammable gas that accounts for 78% of the earth's atmosphere. Nitrogen in a sealed environment has many functions such as preventing internal condensation.
The AXIS q60-s camera is filled with nitrogen through the air inlet valve (1). When the pressure in the camera reaches 0.5 bar (7 psi), the pressure relief valve (2) will open.
Automatic defogging and electronic image stabilization
AXIS q6044-s has the function of automatic defogging. When this function is activated, it can automatically detect the fog in the scene, filter the fog in the image in a digital way, and provide clearer video. The camera's electronic image stabilization ensures a more reliable video in high winds or vibrating conditions.
Flexible installation and easy integration
AXIS T8605 media conversion switch
AXIS q6044-s is able to connect to the network as a Daisy chain using standard network cables or fiber optic cables that help reduce the cost of remote camera installation thanks to the accompanying media conversion switch. The media transfer switch also enables the camera to connect to an external alarm device via two configurable input/output ports and to a 12v power source.
The AXIS Q6044 -s
The AXIS q60-s PTZ hemispheric network camera is a high-speed surveillance camera equipped with a pressurised navigation class stainless steel casing. These cameras can turn 360 ° degrees and wide coverage area, excellent ability in detail amplification, is a Marine, mining, oil and gas, and food, health care and clean room manufacturing equipment in areas such as the ideal choice.