News center
Contact us
Add: 19-702,SongQuan Villa,Taibai Road,Luohu,Shenzhen,China
Tel: +86-755-25512007
Fax: +86-755-25512007-2005
Email: sales@conterway.com
Product show
Asx AXIS Q1922 thermal imaging network camera with excellent detection performance, large coverage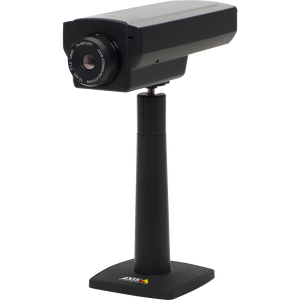 Product Numbers:Q1922
Price:0
Product introduction:Asx AXIS Q1922 thermal imaging network camera with excellent detection performance, large coverage
Arsen AXIS Q1922 thermal imaging network camera
Excellent detection performance, large coverage
Stop selling products. Support dates to 2019-12-31
After this date, see the support documentation.
You can get support as long as the product is under warranty.
Replacement: AXIS q1932-e
Excellent VGA resolution
Thermal imaging
High quality indoor detection
Multiple lens selection
Intelligent video function
Standard Ethernet power supply (IEEE 802.3af)
High quality outdoor detection performance
The AXIS Q1922 thermal imaging network camera is a perfect complement to any video system that requires 24/7 monitoring of a site. The camera USES thermal imaging technology and is designed for indoor monitoring. Users can use it to monitor people, objects and accidents in total darkness and in all kinds of adverse conditions (such as smoke, fog, dust and mist).
Key IP monitoring features
Thermal imaging
Find out more about the technology and benefits of thermal cameras in video surveillance.
More about thermal cameras
AXIS Q1922 thermal imaging network camera supports h. 264 video compression, which reduces bandwidth utilization and storage requirements by up to 80% compared to m-jpeg format.
The camera provides multichannel, independently configurable video streams in h.264 and m-jpeg formats. Each video stream has its own palette Settings.
AXIS Q1922 has two-way audio support, allowing users to communicate with visitors and intruders.
Ethernet power supply (PoE) enables easy installation
Ethernet power supply (IEEE 802.3af) enables easy installation and cost savings without the use of cables.
Wide detection range
With a resolution of up to 640x480 pixels and multiple optional lenses, AXIS Q1922 optimizes detection performance to meet most application requirements:
Lens focus Angle detection
1.8 x 0.5 m 2.3 x 2.3 m
Millimeter horizontal meter code
To detect
(target: 1.5
Pixels)
10 ° 57, 320, 350, 990, 1083
19 32 ° 580 634 1800 1969
identify
(target: 6
Pixels)
10 ° 57, 80, 87, 250, 273
19 32 ° 150 164 440 481
logo
(target: 12
Pixels)
10 57 40 ° 44 125 125
19 32 ° 75 82 220 241
The detection range is calculated according to the Johnson standard and may vary depending on weather conditions.
View AXIS Q19 thermal imaging network camera series diagram (m) (PDF), or the AXIS Q19 thermal imaging network camera series diagram (yards) (PDF), to determine the lens focal length, the target of the pixels on the quantity and the relationship between the detection range.
Intelligent video function
Because thermal imaging cameras are less affected by light conditions and common shading problems, they are more accurate than traditional cameras in most intelligent video applications.
AXIS Q1922 thermal imaging cameras and advanced software processing functions with VGA resolution, frame rate of 30 FPS, improved the quality of thermal imaging, increases the target pixels, made it possible to effectively integrated intelligent video applications.
Global standardization
The camera also provides capacity for third-party analysis modules, including support for the AXIS camera application platform. AXIS Q1922 thermal imaging network camera supports ONVIF, enabling interoperability between video products on different networks.
Product evaluation
Benchmark Magazine, UK: AXIS Q1922 will be the right choice for many to enter the field of thermal imaging for the first time. It is easy to configure and use, provides good performance levels, and is a value for money product.