News center
Contact us
Add: 19-702,SongQuan Villa,Taibai Road,Luohu,Shenzhen,China
Tel: +86-755-25512007
Fax: +86-755-25512007-2005
Email: sales@conterway.com
Product show
Asx AXIS q1932-e thermal imaging network camera reliable detection performance, large coverage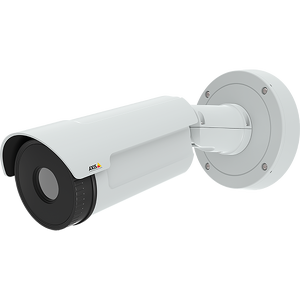 Product Numbers:Q1932-E
Price:0
Product introduction:Asx AXIS q1932-e thermal imaging network camera reliable detection performance, large coverage
Asx AXIS q1932-e thermal imaging network camera
Reliable detection performance, large coverage
Stop selling products. Support dates to 2021-12-31
After this date, see the support documentation.
You can get support as long as the product is under warranty.
Replacement: AXIS q1942-e
VGA thermal imaging
Bullet design
Intelligent video
Ethernet power supply
Multiple lens selection
Shock detection
The AXIS Q19 series
The thermal imaging resolution of 640x480 and a series of lenses make it easy to detect and identify people, objects and accidents. The new filter can eliminate the blur and reshadow effect and keep the image clear under any conditions.
Because the AXIS q1932-e camera does not lose details or temperature information, the camera can provide improved thermal imaging contrast while maintaining low noise. Scenarios are easy to understand; The environment is identifiable and objects, accidents or persons are identifiable.
The AXIS Q1932 - E
Without noise reduction
Intelligent video applications
Thermal Network Camera
Thermal imaging
Learn more about thermal imaging camera technology and its advantages in video monitoring.
Thermal imaging camera
AXIS q1932-e supports intelligent video applications such as the attached amex crossover detection license and amex video mobile detection 2.1. The thermal imaging camera can supplement any IP monitoring system so that it can immediately detect unexpected events and send notifications to other network cameras.
According to the alarm trigger, the PTZ network camera can be redirected to the place of interest. AXIS q1932-e optimizes detection performance with a resolution of 640x480 pixels.
This satisfies most application requirements. Because thermal imaging cameras are less affected by light conditions and shadow problems, they are more accurate in most applications and have lower error alarm rates than traditional cameras.
Suitable for strict outdoor video monitoring
AXIS q1932-e is a bullet-type outdoor camera designed to withstand severe weather conditions. The product has a built-in window heater. For those who need cost-benefit,
All-weather area or perimeter monitoring for all security applications, such as roads, underground channels and airports, is ideal. The camera also has a vibration detection function that alerts people when damage is done.
Detection range
Focus field detection
Mm level personnel:
1.8 x 0.5m vehicles:
4 x 1.5 m
M m code
To detect
(target pixel to 1.5 pixels) 10 ° 57, 322
352
986, 1079,
19 32 ° 573 627 1757 1922
35 ° 18, 1019, 1114, 3124, 3416
60 ° 10, 1833, 2005, 5623, 6149
To identify the
(target pixel at six pixels) 10 ° 57, 80, 88, 247, 270
19 32 ° 143 157 439 480
35 ° 18, 255, 278, 781, 854
60 ° 10, 458, 501, 1406, 1537
identify
(target pixel to 12 pixels) 10 57 40 ° 44 123 123
19 32 ° 72 78 220 240
35 ° 18, 127, 139, 390, 427
60 ° 10, 229, 251, 703, 769
The detection range is calculated according to Johnson's criteria and may vary depending on weather conditions.