News center
Contact us
Add: 19-702,SongQuan Villa,Taibai Road,Luohu,Shenzhen,China
Tel: +86-755-25512007
Fax: +86-755-25512007-2005
Email: sales@conterway.com
Product show
Ansys AXIS q1932-e PT thermal imaging network camera is designed for horizontal rotating - vertical rotating motor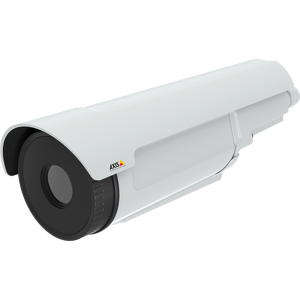 Product Numbers:Q1932-E PT
Price:0
Product introduction:Ansys AXIS q1932-e PT thermal imaging network camera is designed for horizontal rotating - vertical rotating motor
Ansys AXIS q1932-e PT thermal imaging network camera
Designed for horizontal rotating - vertical rotating motor
Stop selling products. Support date to 2022-03-31
After this date, see the support documentation.
You can get support as long as the product is under warranty.
Replacement: AXIS q1942-e PT Mount
VGA thermal imaging
Intelligent video
Ethernet power supply
Multiple lens selection
PT stand
Shock detection
AXIS Q1932 - E PT Mount
Easy to verify
The thermal imaging resolution of 640x480 and a series of lenses make it easy to detect and identify people, objects and accidents. The new filter can eliminate the blur and reshadow effect and keep the image clear under any conditions.
The AXIS q1932-e PT bracket provides improved thermal imaging contrast while maintaining low noise due to no loss of detail or temperature information. Scenarios are easy to understand; The environment is identifiable and objects, accidents or persons are identifiable.
Learn more about thermal imaging camera technology and its advantages in video monitoring.
Thermal imaging camera
AXIS q1932-e PT stents include intelligent video applications such as the ansons hyperwire detection license and the ansons video mobile detection 2.1. The thermal imaging camera can supplement any IP monitoring system so that it can immediately detect unexpected events and send notifications to other network cameras.
According to the alarm trigger, the PTZ network camera can be redirected to the place of interest. With the help of VGA thermal imaging resolution, AXIS q1932-e PT stent can optimize detection performance.
This satisfies most application requirements. Because thermal imaging cameras are less affected by light conditions and shadow problems, they are more accurate in most applications and have lower error alarm rates than traditional cameras.
Multi-function outdoor video monitoring
AXIS q1932-e PT bracket is a special type of outdoor bullet type, designed for installation on horizontal rotating-vertical rotating motor. This allows the camera to cover a larger area,
And provide the option to boot the camera up. Thermal imaging cameras include serial ports for communication between RS422/RS485 and horizontal rotating-vertical rotating motors. (excluding horizontal rotation - vertical rotation motor). The product has a built-in window heater. The camera also has an impact detection capability that alerts people when damage is done.