News center
Contact us
Add: 19-702,SongQuan Villa,Taibai Road,Luohu,Shenzhen,China
Tel: +86-755-25512007
Fax: +86-755-25512007-2005
Email: sales@conterway.com
Product show
Asx AXIS q2901-e temperature alarm camera can be installed on the wall for remote temperature monitoring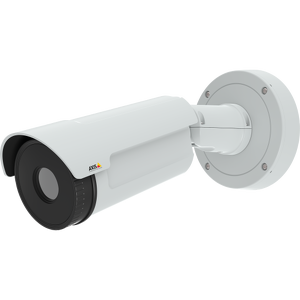 Product Numbers:Q2901-E
Price:0
Product introduction:Asx AXIS q2901-e temperature alarm camera can be installed on the wall for remote temperature monitoring
Asx AXIS q2901-e temperature alarm camera
Can be installed on the wall for remote temperature monitoring
Temperature alarm
Isothermal palette
Point temperature reading
High performance intelligent video
Temperature detection
AXIS q2901-e provides two types of alarm triggered by temperature deviation: if the temperature is above or below the set limit, or if the temperature increases too fast. The camera temperature detection range for - 40 ℃ to 550 ℃ (- 40 ℉ to 1022 ℉).
Isothermal palette
With the help of isothermal imaging, the highlighted temperature area can be set in the image. They help determine which temperature corresponds to which color. The lower limit indicates the temperature at the beginning of the color part of the palette, and all temperatures above this limit will be highlighted.
Point temperature reading
This function is used to view the temperature of a specific area of the image. The radiation rate can be adjusted (depending on the properties of the material) to obtain a more accurate reading. Used as a visual aid for operators.
See here for a list of radiation rates for different materials
Convenient and flexible installation
AXIS q2901-e is easy to install and easy to integrate with existing security systems. The following installation video shows how to install the camera on the wall.
Suitable for strict outdoor video monitoring
AXIS q2901-e is a bullet-shaped outdoor model designed to withstand severe weather conditions. The product has a built-in window heater. It is ideal for round-the-clock area or perimeter monitoring that requires cost-effective security applications such as roads, underground channels and airports. The camera also has an impact detection capability that alerts people when damage is done.