News center
Contact us
Add: 19-702,SongQuan Villa,Taibai Road,Luohu,Shenzhen,China
Tel: +86-755-25512007
Fax: +86-755-25512007-2005
Email: sales@conterway.com
Product show
HEICC-2301T HD 1080P Integration Explosion-proof Network Cameras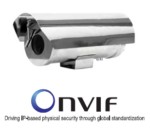 Product Numbers:HEICC-2301T-1080P
Price:0
Product introduction:HEICC-2301T HD 1080P Integration Explosion-proof Network Cameras
HEICC-2301T HD 1080P Integration Explosion-proof Network Cameras
Honeywell HEICC - 2301 - t is a fixed IP explosion-proof camera, with 1080 p hd resolution and real transformation function day and night. After repeated testing, this camera can survive industry severe environment test, especially the high temperature full of dangerous gases, moisture and dust explosive environment, such as oil refineries, chemical plants, mines, etc.
HEICC for 2301 p - 2301 - t, 30 frames per second (1920 x1080) resolution of high-definition, support double stream and h. 264 and MJPEG video compression format. Among them, the h. 264 video compression technology not only provides the high quality picture, also greatly improve the bandwidth utilization, reducing the video data capacity, saving storage space.
HEICC - 2301 - t is an equipped with mechanical infrared end filter true convert camera, day and night to ensure that under the different light intensity for hd high quality images. Even in the dark corner, the picture details are still clearly visible; In offshore drilling platform like bright light environment, video can still present intense color contrast.
HEICC - 2301 - t adopt the 1/3 of the new "progressive.scanning megapixels CMOS image sensor, greatly enhanced the sensitivity of the image processing, and reduces the power consumption at the same time.
HEICC IP 68-2301 - t waterproof grade, in the industry leading level. Shell adopts austenitic stainless steel, which represents the highest standards of environmental protection at present. Adopting physical toughened float glass lens window, and is equipped with wiper, even under the bad environment can ensure that the picture clear and fluent.