News center
Contact us
Add: 19-702,SongQuan Villa,Taibai Road,Luohu,Shenzhen,China
Tel: +86-755-25512007
Fax: +86-755-25512007-2005
Email: sales@conterway.com
Product show
Panasonic WJ-GXE100H Network Monitoring System Products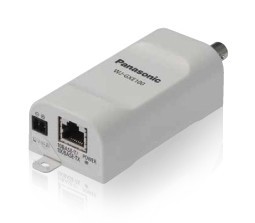 Product Numbers:WJ-GXE100H
Price:0
Product introduction:Panasonic WJ-GXE100H Network Monitoring System Products
Panasonic WJ-GXE100H Network Monitoring System Products
Full frame rate of h. 264.
H. 264 and JPEG three code: 2 h. 264 output and 1 JPEG output.
Moving scene adaptive interlaced/progressive scan conversion, to ensure that an object moving image is still clear.
RS485 protocol reference table, ensure the control of different manufacturers of the PTZ camera.
Camera subtitles show: image embedded up to 20 characters.
PoE. The power only connect a network cable.
(in accordance with IEEE802.3 af)
Small volume.
In conjunction with the camera installed in the outdoor shield.
Alarm source including VMD, video loss and Panasonic alarm protocol.
VMD (video mobile detection can be set up four size detection.
VMD metadata to support WJ - ND400 playback function of VMD.
Mode: the Internet through the HTTP protocol to transmit h. 264 images.
Multiple languages GUI and set menu: Chinese, English, French, Italian, Spanish, German, Russian, Japanese.
Support IPv4 / IPv6.
In accordance with ONVIF.