News center
Contact us
Add: 19-702,SongQuan Villa,Taibai Road,Luohu,Shenzhen,China
Tel: +86-755-25512007
Fax: +86-755-25512007-2005
Email: sales@conterway.com
Product show
Panasonic WV-ASM970/CH System Manager Software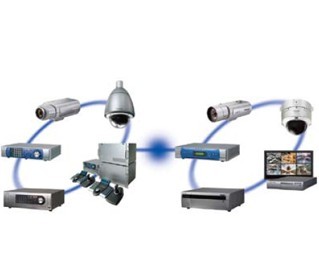 Product Numbers:WV-ASM970/CH
Price:0
Product introduction:Panasonic WV-ASM970/CH System Manager Software Select a monitor can be simultaneously scenes (1/4/7/9/10/13/16 shows) operation and monitoring.In addition, at the same time operating two monitors. Up to 30 ips/camera in mpeg-4 m
Panasonic WV-ASM970/CH System Manager Software
Flexible system design, simulation, IP and mixed analog/IP.
Can register up to 64 VCRS, 1024 security cameras and 2048 cameras (or encoder).
Select the camera number, display real-time image.
The video camera, video camera default and default group.
On the split-screen display real-time display circuit switching images.
Switch on more than one monitor in real time display group images.
Preset users choose to control the camera and monitor.
For the selected monitor the OSD menu can choose on/off mode.
Sequence control: circuit switching (128 program, 128 step), set the default (128 program, 128 step), group sequence (128 program, 128 step).
Panasonic camera control: rotate/pitch, zoom, focus, brightness, preset position call with program (up to 256), automatic mode (patrol), automatic classification, shaking, tour, AUX 1 ~ 2.
Flexible monitoring control is suitable for wall installation monitor.
Can be up to 512 registered users.
WV - ASC970 / CH can allow 64 user login at the same time.
Composed of VCR, camera and encoder Panasonic alarm control.
Can handle up to 2048 police and 1024 event schedule.
User management: the user authentication.
Using system of choose and buy WV - CU950 / CH/monitor selection as well as video cameras and video cameras/sequence control.
Using the system controller WV - CU950 / CH and WV - ASM970 / CH can be reset to individual or all of the alarm system.
Use the WV - ASC970 / CH, can build as many as 64 sites of satellite system.
System failure, the redundant function can switch to other WV - ASC970 / CH server operation.
And at the same time can choose more than one monitor (1/4/7/9/7/9/16 shows) operation and monitoring.
In addition, at the same time operating two monitors.
Support up to 100 map.
Up to 30 ips/camera in VGA h. 264 1.5 Mbps mode through 16 images showed (depending on the camera, the camera Settings and PC performance).
According to adapt to the mode selection screen image resolution, 4 pictures with VGA, 16 images using QVGA.
Can make the network optimization (depending on the camera mode).
Use of time axis function can be easily search and playback
In the 16 images on the screen display playback at the same time.
Alarm occurs, the monitor display the alarm automatically switch to the map mode.
64 camera lens can quickly find the place with color alarm in positioning.
The file format from N3R (special format) converted to MP4 format.
Support with full hd monitor.